PRH recently launched its new Reader Rewards Program, a loyalty program designed to connect directly with readers and celebrate the joy of reading.  Read on to learn more about this program and see how you can benefit from it—as both an author and a reader!
We at Penguin Random House are pleased to announce the launch of the largest-scale customer-loyalty engagement program ever offered by a book publisher. In this new program, readers who purchase Penguin Random House books across all divisions and in paperback, hardcover, ebook, and audio formats will be able to collect points and earn free books from our catalog. These points can be earned with purchases made online or in-store from any retailer in the United States.
Naturally, many of our authors are avid readers too, so we're especially pleased to announce that all Penguin Random House authors are welcome to participate in the rewards program as well! The best news yet? This deal can even be combined with your PRH author discount, which you can access through the Author Portal.
What We Know
Loyalty programs drive sales in any industry—think of the free drink or free meal you get with a punchcard from your favorite coffee shop or restaurant. Book buyers are especially loyal. We sent out a survey to highly engaged PRH newsletter subscribers and asked about their buying habits. The survey showed that 66 percent of respondents were already enrolled in at least one loyalty program and 93 percent expressed interest in signing up for such a program through PRH. The idea of free books was especially enticing, with 98 percent of respondents saying they wanted to earn points and redeem them for free books.
We learned that customer loyalty relates directly to exponential growth in book sales, and that customers want rewards for their purchasing behavior. These results made it clear that a rewards program would be a very welcome addition to PRH.com.
How It Works
To participate in the loyalty program, you need to create a free account at PRH.com/rewards. You can then start to earn points toward your reward by purchasing PRH titles at any retailer, in the following formats: ebook, audiobook, paperback, and hardcover. Make sure to hold on to your receipt, because you will be asked to enter basic proof-of-purchase information into the Reader Rewards website to begin earning points. The majority of the Penguin Random House catalog is eligible for points, as indicated on product pages on our website.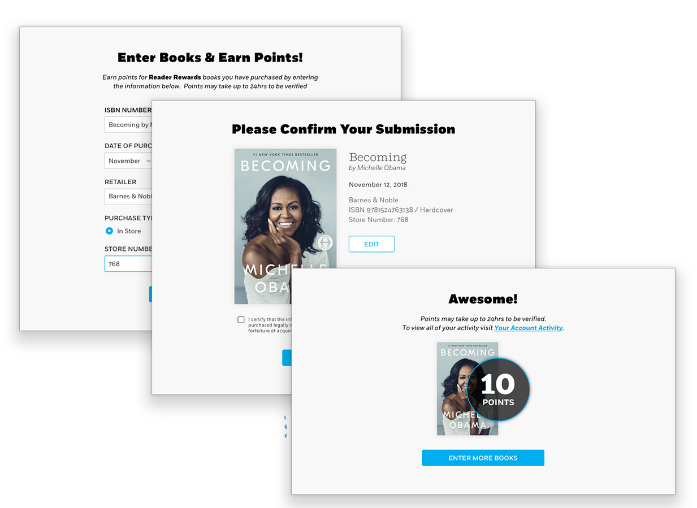 The rewards site keeps track of how many points you have earned. Once you reach 120 points (usually by uploading proof of purchase for twelve books), you will receive a rewards code that can be redeemed for free Penguin Random House books on PRH.com, up to a $30.00 value.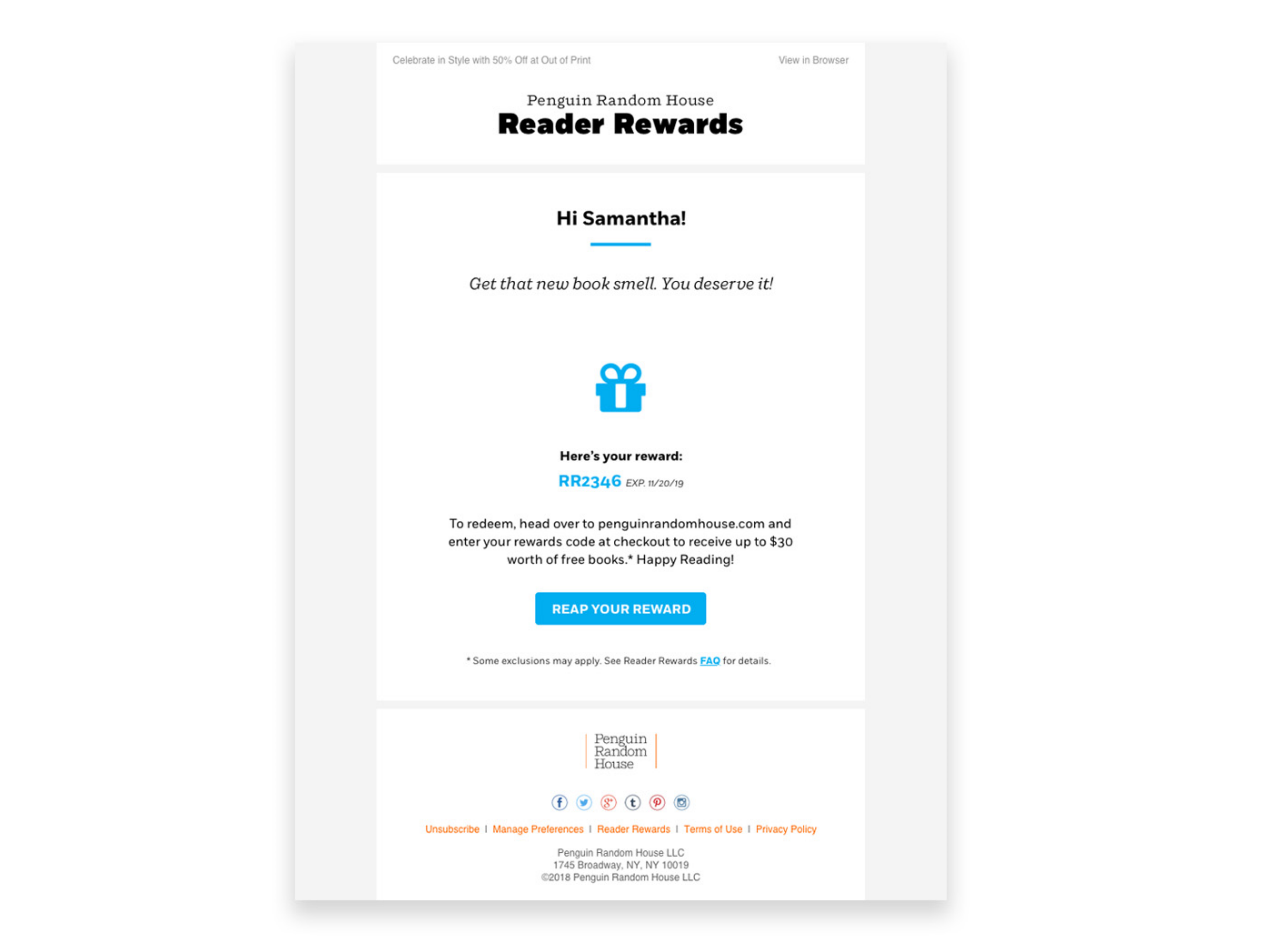 In addition to earning points, Reader Rewards members will receive personalized recommendations via email and on their PRH.com dashboards, based on PRH's editorial expertise.
Customers are reminded about the rewards program in several ways while browsing PRH.com, including a new "Rewards" button on the homepage and a reminder to join the program on each participating book's product page.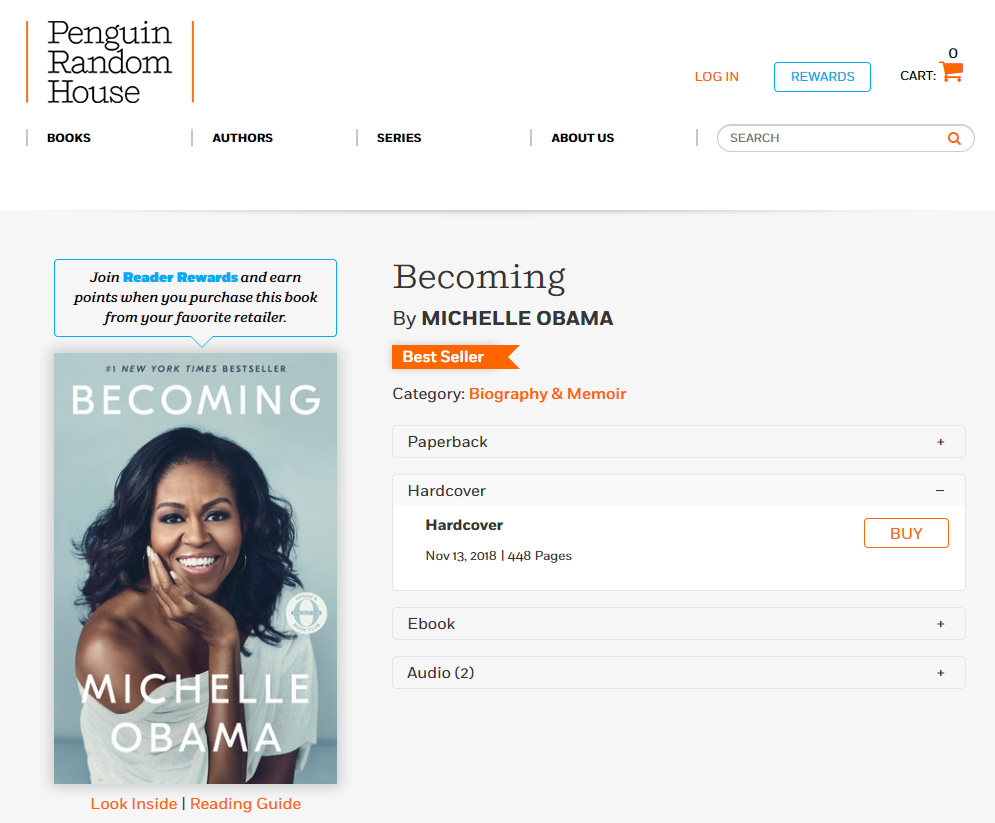 Once readers sign up, they will receive monthly "points balance" emails to remind them of how many more books they need to purchase before they receive a reward. Keep in mind that the $30.00-value reward expires within six months, so customers should be sure to redeem their free books within that time period.
(To view a video overview of how to participate in the program, click here.)
According to Sanyu Dillon, EVP, Director, Marketing Strategy & Consumer Engagement, "This program delivers an initial step toward building deeper, more meaningful relationships with readers. At Penguin Random House, we are a community of book lovers, so celebrating books and reading by rewarding our readers through this new loyalty program is a natural fit. We're thrilled to combine rewards and recommendations as we continually strive to improve the book-discovery experience for our readers and help them find their next great reads."
Neda Dallal is Associate, Publishing Development and Author Platforms for Penguin Random House.