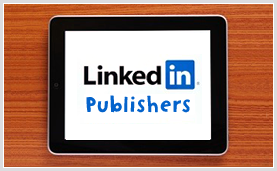 You might be most familiar with LinkedIn as a place to keep in touch with old work colleagues or hunt for new jobs. But LinkedIn has been quietly building itself out as a content platform, where some authors have seen great success.
LinkedIn's breakthrough in becoming a platform for original content came in October 2012 with the launch of the LinkedIn Influencer program. LinkedIn Influencer is an invitation-only program that enables thought leaders in business, entertainment, and government to write and share long-form content. The average Influencer post receives almost 30,000 views, with some posts having topped the million-view mark.
LinkedIn members are particularly interested in business topics and learning how to achieve professional and personal success. Some of the most successful Influencers have been authors, with Deepak Chopra and Gretchen Rubin joining such notables as Barack Obama and Bill Gates in the LinkedIn Influencer Top 10. Other Influencer authors include: Daniel Goleman, Guy Kawasaki, Lou Adler, Dave Kerpen, Bruce Kasanoff, Eric Ries, and Dan Ariely.
Now LinkedIn is building on the success of the Influencer program by creating a new program called the LinkedIn Publishing Platform, in which all LinkedIn members can participate. This is a great option for authors who would enjoy writing articles on the kinds of topics that appeal to LinkedIn members. Although the Publishing Platform does not offer the prestige and reach of the Influencer program, LinkedIn is committed to helping its writers find an audience by exposing the best content to other members.
How Does the LinkedIn Publishing Platform Work?
When members publish posts on LinkedIn, their content becomes part of their professional profile, is shared with their trusted network, and is exposed to other LinkedIn professionals not part of their network. Members can now "follow" each other, rather like on Facebook or Twitter.
At least 25,000 members already have the ability to publish content on LinkedIn. To check if you have access, go to your LinkedIn home page and look for the pencil icon in the updates box at the top. When you click the pencil icon, you'll see the publishing editor, where you can create a post. If you don't see the pencil, you'll need to fill out this form to gain access.
Some Things to Bear in Mind:
Because the program is now open to LinkedIn's 277 million members, the quality of your content will be the key to driving readership.
As with all social media, posting regularly is important—LinkedIn suggests weekly.
Consider repurposing content you may have created already for another use; there is no rule that content must be posted for the first time on LinkedIn.
Think about the special perspective only you can offer and work with some broad themes. This can be useful in giving followers an expectation of the kind of content you will create.
Topics that have worked well for LinkedIn Influencers include "The Best Advice I Ever Received," "The Book That Changed Me," "Things to Try this Summer," and "My Best Career Mistake."
Add a catchy headline and a striking image. Make your text punchy and easy to read.
Make sure your professional profile is smart and up to date, especially your headshot and title (which will get shared whenever you make a post).
Share your post in as many places as possible outside LinkedIn to drive traffic and sharing.
Check out this article for more practical tips.
Applying to Be an Influencer
If you feel that the original Influencer program would be a better fit, talk to your marketing contact, as we can submit authors to LinkedIn for consideration.