Many of us transitioned to working from home in March, and for the Penguin Random House Audio group, this shift in operations presented some challenges. Read on to learn how PRH Audio has moved to creating and producing audiobooks from home, and to see some photos of at-home audio setups!

How did the audio production team pivot to working from home in March, when we began quarantining? Did you feel prepared to continue your work from afar at the same caliber as in the studio?
Our team had a lot of books already in production in studios in our offices, in commercial spaces, and all over the country, so the switch was almost immediate. The first thing we did was to move all of our internal recordings into commercial studios, which were a little bit more isolated than a space that has a thousand employees.
After a week or two of scheduling in commercial studios, we realized that we were facing a pandemic, and it was best to keep everyone out of public spaces or buildings to record books until further notice. So, we started leveraging our connections and our platform Ahabtalent.com to find narrators who had home studios. Then we created a process for those studios to be vetted and a way for directors to Zoom into sessions.
Finally, we decided that we were going to reach out to our running list of more than two hundred talent agencies around the world and let them know that while other forms of media and stage production had shut down, we were open for business and recording books. We doubled the number of actors to whom we had direct access, to more than 7,000 actors. This put us at ease, but we still needed to deal with author recordings, and that was a completely different issue.
You're never prepared to completely abandon your production model, and although producers are adaptable by nature, the biggest challenge we faced was on the technical side of what we do. Rather than managing fifteen studios in two locations, where the sound is always consistent, we were now managing hundreds of home studios with people who were not prepared to face the technical issues that can come up in a home recording. Actors are actors and engineers are engineers, so a lot of vetting and coaching had to be done to make sure we were getting high quality audio from these actors. Our post-production team became a call center for the first three months of quarantine, just fielding calls from actors to improve sound. That team really kept our standard high, even when we were working in flawed studios.
Author Max Brooks recording his audiobook at home.
Can you tell us how you've been recording and creating audiobooks during this time? How are you sourcing talent, directing the actors as they read, and more?
Much of our workflow has not changed. Producers are still working closely with authors on their recordings and casting books as we normally would.  Zoom has given us the ability to check in on recording sessions and talk to directors and narrators while they are working. You certainly lose the ability to hear everything you normally would in a recording studio, but we are able to keep the performance engaging and collaborative. You may have to go back and rerecord some parts of a book because of noise issues that are not easily picked up on Zoom, but we are able to strip a lot of noise out of a recording in post-production.
Ahabtalent.com has been so important to us in finding actors during quarantine. We have been able to source so many actors through this portal and audition them right on the platform, which is really helping us get the best out of our casting candidates.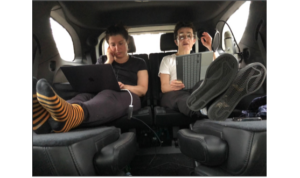 Author Masha Gessen recording an audiobook in their car.
Have there been other major challenges in the move to working from home?
We also had to figure out a way to record authors in their homes if needed. We created a "studio in a suitcase" and worked with some recording studios to ship gear and coach authors on the best place in their home to record their books. This was the most difficult aspect of the transition to recording during COVID. Taking an author, who typically is not comfortable in front of the mic, and then getting them to set up a home studio with blankets and a bunch of audio gear is extremely challenging. In a recording studio, authors typically don't have to worry about being conscious of sound issues, microphone placement, etc., but at home, you are the engineer, the actor, and the author all in one. That is a lot to put on people. I can say wholeheartedly that although this has opened up new ways of doing things, it is certainly not the best way to do things.

Author David Chang with his at-home audio recording setup.
Any moments you're most proud of?
I think what I'm most proud of is how the team banded together and adapted to every single challenge we faced. Nobody blinked, even when things were unsettled at the beginning, and we all worked together to find solutions to problems that came up. We didn't miss a single on-sale date during COVID, and that is something to be proud of. There was so much uncertainty, fear, and confusion about the future, but everyone wanted to keep the train on the tracks. The team was resilient, innovative, and still very creative. This is what makes Penguin Random House great: the people we work with.
Dan Zitt is Senior Vice President, Content Production at Penguin Random House Audio.