A picture is said to speak a thousand words, and determining the best visual to use for your social media profiles can be a daunting task. We asked publicity and social media experts to share tips and best practices to help you literally put your best face forward, across different platforms.
Selecting the Best Picture for Social Media Profiles
Make sure the picture represents both you and the content of your work. If you're a YA author you might dress casually, while a business author might be best represented wearing business attire and a cookbook author in her kitchen.
Make yourself, not the background, the focus of attention. Select a photo that shows your face clearly and doesn't surround it with a complicated backdrop, which can be distracting. Always make sure the photo is well lit.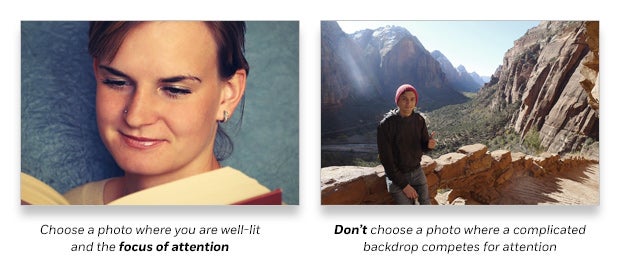 Remember that the profile photo for Instagram and Twitter is small—crop it closer to your face than you would a Facebook profile photo, so that you are identifiable.
Facebook and Twitter use square profile pictures while Google+ and Instagram use round ones. Select images that are the correct shape to avoid heavy cropping right after you upload.
You are fourteen times more likely to have your LinkedIn profile viewed if you include a photo. The ideal facial expression for a LinkedIn picture, according to a recent NYU study, is happy, but not too happy—a slight smile is your best bet. (Here are some more LinkedIn tips.)
Use a portrait of you, not a cropped group photo with someone's arm around you.
Black and white vs. color is a style choice that's up to you. For Facebook and Twitter, just make sure that choice complements your cover photo.
Consider using a curated photo of your book or books as a cover photo on Facebook, Twitter, and Google+. This immediately lets people know they've found the right person. Other fun options include a landscape image from a trip or an aerial shot of your desk.
Choose a shot you love. It can even be your author photo!
Time Savers
The same photo can be used across different social media platforms. This can make you more identifiable as the same person—especially if your handles across platforms are different. (Though, on that note, try as hard as possible to have the same handle for every platform—the easier it is for people to find you across all social media, the better!)
Use a cheat sheet to keep up with the changing image sizes and requirements of different platforms.
Photo-Taking Tips
Look at the camera.
Staring off to the side may seem visionary, but it can also seem affected.
Even if you wear eyeglasses, try a few photos without them,
especially if they tend to overwhelm your face or reflect a lot of glare.
Don't zoom in too close.
Allow room for the photo to be cropped both vertically and horizontally.
Take color images, not black and white.
Color images can always be converted to black and white, but not the other way around.
No hats.
No pets.
No sunglasses.
Free Photo Editing Websites and Software
If you need to edit your own social media profile photos, here are some free alternatives to Photoshop.
Tips shared by Nicholas Latimer, VP & Director of Publicity, Knopf;  Christina Hu, Associate Director of Marketing, Blue Rider Press; Danielle Siess, Associate Publicist, Random House; and Mary Stachofsky, Digital Publishing Assistant.