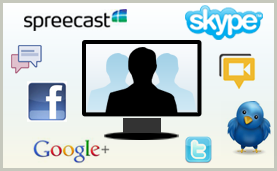 In our increasingly digital world, virtual author appearances have become popular with book-loving audiences in libraries, classrooms, book blogs, and book groups. Here are our tips and thoughts on the virtual platforms we have worked with to date in this evolving area.
Skype is a video-chat tool that has a user-friendly interface and requires only simple equipment (all you need is a computer, a webcam, and a Skype account). We find Skype a great tool when your audience is physically gathered together, for example at book clubs, libraries, or schools. For bigger audiences, it might be helpful to have a projector on the receiving end so that everyone can see without huddling around a small screen.
Library Skype programs can be a particularly useful way to connect with niche audiences (and often provide opportunities to sell books too).
Pros: As long as both parties have Skype accounts, using Skype is free.
Cons: The connection is not always 100 percent reliable, making Skype less suitable for a ticketed or bookstore event that would require a more professional approach.
Take it further: You might want to upgrade to a headset to make your audio clearer (ensure it is Skype-compatible). You also might want to investigate some of the third-party tools available for recording your Skype session so you can embed it on your website or social media.
Examples: Visit Skype An Author for plenty of examples.
Facebook and Twitter chats have become a relatively common way to make author interviews more engaging for the public. Chats can be hosted by individuals, libraries, blogs, media properties, or retail brands. The host will promote the fact that an author will be present on their Facebook or Twitter page at a certain time and will respond to questions. Chats usually work best with a moderator to get the ball rolling and to help manage the chat. For Twitter chats, it is important that a special hashtag is used so that people can easily follow the conversation.
Pros: Social media chats are easy to organize and free, they require no special equipment, and they can attract good-sized audiences.
Cons: Social media chats are much less personal and intimate than seeing an author's face and hearing their voice. Unlike platforms that integrate a video view, their impact can be short-lived, as the page updates with new content.  They are difficult to link to.
Examples: Columbus Metropolitan Library's chat with Susan Cain (scroll to February 7).

Spreecast is a free social video tool where up to four people at a time can interact on screen, while hundreds of others can watch and submit comments or questions on camera. The person organizing the Spreecast (the "producer") can use controls to choose what questions get asked or bring people on camera. Spreecasts can be public or private, and are recorded.  Spreecasts can easily be embedded (both the live and the recorded version) on Facebook, YouTube, and your website/blog. Spreecasts are hosted on the Spreecast.com site.
Pros: Spreecast is popular among Random House marketers because it is easy to use and interactive. The audience attending a Spreecast can easily submit questions or request to appear on screen. Producers/hosts have lots of control to approve questions and put users on screen. Spreecast can be used for interviews, panel discussions, or a straightforward author Q&A. And Spreecast is free.
Cons: You'll need one or two people performing the "producer" role to field questions and comments, depending on the size of the audience. The producer does not need to be a technical expert, as long as they give themselves some time to get familiar with the tools.
Take it further: We recommend using lapel microphones for better sound quality. Talk to your editor or marketer about Spreecast–-we can help set up and promote your event.
Examples:  Anne Rice, Paulo Coelho, Penguin's Breathless Reads Author Chat, Jessica Valenti.
Google+ (Google Plus) Hangout is a flexible tool that can be used both formally and informally for video chat. You can use it for a private or an open chat, bringing up to ten people on screen at the same time. You can broadcast to unlimited people online via your Google+ and YouTube pages (using the Google+ Hangout On Air functionality). The tool is designed to be more self-serve than Spreecast, but it is less interactive. Users can watch a Hangout without registering or using special software. However, to participate on-camera, users will need to install the Google video chat plugin and have a Google+ account.
Pros: Hangouts are easy to set up and there is no need for an off-camera producer. An editable recording is downloadable after the event.
Cons: Participation is really limited to the people you invite to come on camera, although others can comment on your Google+ or YouTube page.
Take it further: You can also embed the Hangout (live or recorded) in a website using the YouTube embed code (more details and other ideas here). GalleyCat recommends the tool for creating "virtual writing groups" with fellow authors.
Examples: New York Public Library's chat with Stephen Chbosky, The Globe and Mail's hangout with Jeff Mowatt (embedded).
Some general advice on virtual appearances:
For video appearances, test out the technology with a dry run to ensure you have all the equipment you need and that your computer is compatible. Practice is also helpful to make sure you won't have trouble working the system during the event.
It is useful (but not essential) to have a moderator to tee up questions and make proceedings run smoothly.
It's helpful to have a glass of water to hand to avoid a dry mouth.
With all external tools, check their terms and conditions to make sure you are comfortable with their policies on privacy, sharing, and copyright.
For more information on any of these tools, or to discuss ideas for using them, please talk to your editor or marketing contact.