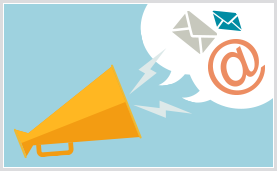 Email is anything but dead. It's a vital part of any marketing plan, allowing you to reach readers easily at any time. But with all the inbox competition that emails face each day, how can you make your emails stand out? And if you're new to email marketing, where should you begin? Here are 10 tips for making your email program shine.
1.Craft engaging subject lines. Once readers have opted in, you still need to stand out among a sea of emails in their crowded inboxes to get your message opened. Attention-grabbing subject lines are key to successful open rates, so don't make the mistake of rushing through this important step. The subject line is the first creative aspect of your email that a subscriber will see, so take the time to craft your subject line.
2. Collect email addresses—all the time! The first step to any successful email program is allowing fans to sign up to receive your emails. Without a list, you won't be able to build a successful email program. Add a subscription form to your website and Facebook page, allowing readers to opt in to your email list. Also collect email addresses at events such as book signings and conventions. Remember to make it clear to readers that by submitting their addresses, they're consenting to receive email.
3. Use an email service provider. We recommend using an email service provider (ESP) to deploy your email blasts. An ESP is a system that allows you to manage your address list, create designed emails, manage unsubscribe requests, and view performance records (open rates, click rates, etc.). An email service provider also gives you an array of prebuilt templates, so you don't need to have coding skills to design an email. Popular ESPs for authors and small businesses include MailChimp, Constant Contact, and Campaign Monitor.
4.Optimize for mobile. According to Litmus, approximately 50 percent of subscribers open email on a mobile device. That means your mobile audience should be kept in mind when you're designing (or choosing) an email template. When looking for a template to use through an ESP, choose a mobile-friendly design (most ESPs will specify whether or not a template is optimized for mobile use). If you're working with an agency to have a customized email template built for you, request that the template be coded as mobile-friendly (or responsive).
5. Promote your brand, but don't worry about selling. Email doesn't have to be about selling your book. It can also be a great way to promote yourself as a brand and establish a relationship with readers. Use email to share news and links that your readers will find interesting. A balance of informative and promotional content will help build a loyal and trusting subscriber base.
6. Check your email before sending. Your emails may render differently across devices, email clients, and browsers. For example, your email may look fine in AOL, but then appear strangely formatted in Gmail. In order to see how your email renders in different spots, we recommend creating test accounts with the top email clients (e.g., Gmail, Yahoo, AOL, and Outlook.com). Before each deployment, send your testing addresses a copy of your email and check the rendering using several different browsers and devices.
7. Monitor the spam filter. Email delivery can be tricky. From time to time, messages end up in your spam filter instead of your inbox. This is a normal part of email marketing. We recommend subscribing to your newsletter on a few different email platforms, with either your personal email address or ones created just for testing. Check the inboxes after each deploy. If you start to notice that your emails are always delivered to your spam folder, this may indicate a larger problem. Speak with your ESP's service desk if you notice such a problem. Examining your subscriber list and removing people who have not opened an email in a long time is typically the first step to resolving a spam issue.
8. Test, test, test. Email senders often ask questions like the following: What is the best time to send an email? What is the best day of the week to send an email? Are subscribers more likely to open an email if I include my name in the subject line? The way to answer all of these questions is testing. There is no general best time of day, or day of the week, to send an email. These variables will change from subscriber base to subscriber base, so the only way to determine what works for your audience is to test different combinations and compare the results to see what leads to higher open and click rates. Don't be afraid to test different content to see what leads to better results.
9. Stay compliant with email laws. As an email sender, you're responsible for complying with the law, so it's important to know what's legally required. In the U.S., the FTC enforces the CAN-SPAM Act. In Canada, the government is passing a new law in 2014, referred to as Canada's Anti-Spam Legislation (or CASL). For a list of CAN-SPAM requirements, visit the , and for information on Canada's anti-spam law, visit Canada's anti-spam webpage.
10. Send email regularly. In order to maintain healthy email delivery rates, aim to send messages on a consistent basis. You don't have to send something daily, but if you're launching an email program, send at least one email a month to keep your audience engaged and to preserve your inbox delivery.