Throughout 2015, the teams at Penguin Random House have rolled out many innovative programs aimed at introducing our books to the widest possible audiences. Read on to learn about some of the ways we have reached new readers in 2015, and how you can get involved.

Big Ideas Night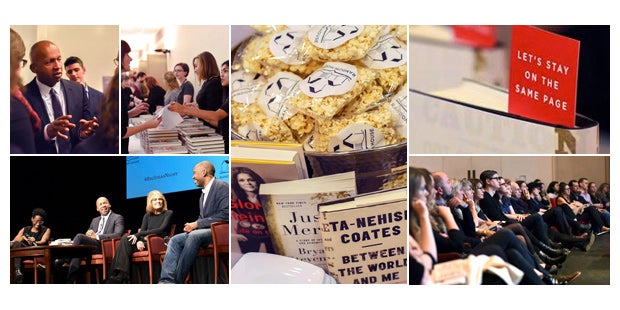 Random House's Big Ideas Night series, launched in 2015, is a forum for thought-provoking conversations between writers and editors on the topics of politics, world affairs, technology, fashion, philanthropy, and more. These focused dialogues offer exclusive opportunities for guests to dive deeper into recently released books with fellow readers, and engage directly with the innovators behind them.
Our most recent event took place on Saturday, November 7, when 624 guests joined Random House for a powerful Big Ideas Night focused on activism, featuring four leading voices on equality and justice: Ta-Nehisi Coates, Gloria Steinem, Bryan Stevenson, and Jacqueline Woodson. This Manhattan event was a huge success, and the largest to date, selling out in advance in just three days!
Click here to read about more creative in-person events from the Random House team.
Penguin Hotline

A unique challenge in the publishing industry continues to be discoverability—recommending the right books to the right readers. Many algorithm-based tech solutions exist, and now there's the Penguin Hotline, a holiday initiative created by the Penguin Publishing Group to provide well-informed, personalized suggestions for the readers in your lives. The process is simple: gift-givers go to www.penguinhotline.com and fill out a short form about the recipient, and the hotline guarantees an informed and publisher-agnostic set of recommendations. The hotline is back for a second year, after a successful run in 2014 that involved more than 400 Penguin Random House volunteers, who made thousands of book recommendations to readers worldwide.
The hotline's 2015 effort runs through December 22 with an expanded website, the new Inside the Igloo blog, and a revamped social media campaign.
Give-A-Book

For the second year in a row, Penguin Random House is running the #GiveaBook campaign, an endeavor to encourage giving books as holiday gifts coupled with a charitable cause to aid children's literacy. For each use of the hashtag #GiveaBook in posts to the GiveaBook, Penguin Random House and Givington pages on Facebook and hashtag mentions on Twitter between November 16 and December 24, we will donate one book to the literacy nonprofit First Book, up to 35,000 books. This year, our website features a "Giving Map," allowing users to search for book drives at nearby stores in order to drive foot traffic and support local book donation efforts nationwide.
How Can You Get Involved?
Post to your social media accounts and encourage your followers to use the #giveabook hashtag and to visit our website. You can also create "selfie" videos to encourage your fans to consider books as gifts this holiday season. If you post on social media, make sure to tag our Twitter account (@giveabooknow) and/or post to our pages:  GiveaBook, Penguin Random House or Givington. Looking for ideas on what to post? Check out our author packet! If you have questions, ideas, or suggestions, please contact us at giveabook@penguinrandomhouse.com.
Books on Amtrak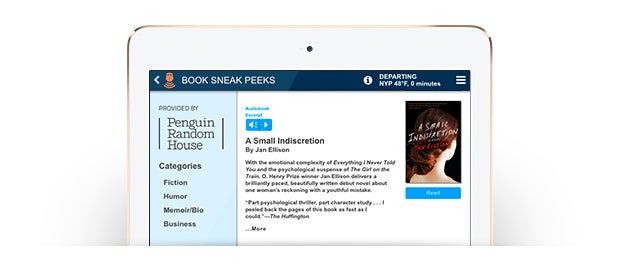 Since April, Amtrak riders have had access to a selection of bestselling titles from Penguin Random House, the exclusive book content partner for the launch of Amtrak's newly redesigned onboard web page. Passengers on trains all across the country are able to read free excerpts from more than thirty books published by Penguin Random House, in various genres across all adult imprints. Each excerpt includes buy buttons to allow customers to purchase any of the available titles directly from a variety of retailers while onboard.
In addition, audiobook content will be included for listening pleasure, and readers have the opportunity to learn more about all of the titles without leaving the Amtrak onboard page. The partnership will continue through next year, with updated selections as new titles publish.
New YouTube Channels
Meet Papercuts and Videracy, new YouTube video channels created by the Penguin Random House digital video team. The goal of these channels is to reach even more readers with engaging and easily sharable videos that feature books and authors. Almost all of the content on the channels is made by our in-house digital video team, which films in a Penguin Random House studio and on location at events.
Papercuts is devoted to fiction, and posts weekly series such as Authorcuts, Judge a Book, Last Minute Book Report, and Fiction to Fashion. The channel also shares book trailers and footage of authors from conventions such as BookCon, Comic Con, and more.
Videracy, devoted to nonfiction, shares weekly videos and innovative book trailers as well as covering author events.
2015 has been another year of innovation and creativity from the teams at Penguin Random House and we're excited to continue sharing what's coming up for 2016!