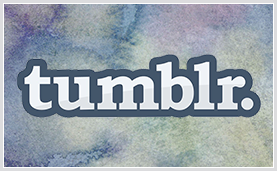 What is Tumblr?
Tumblr is both a blogging platform and a social network. It's a network of over 165 million blogs, and a great place to build a readership for your books or just share your daily thoughts. Your posts get distributed, liked, and reposted just like on Twitter—but instead of displaying 140 characters, you can display unlimited text, images, animated gifs, photo sets, audio files, videos, and more. You can follow whomever you like and get a beautiful dashboard that streams the content you've selected throughout the day. 
Who is creating content on Tumblr? 
Authors like Neil Gaiman, Jami Attenberg, John Green, Eloisa James, Roxane Gay, Emma Straub, Dan Chaon, Bill Cheng, Rainbow Rowell, and Nick Harkaway
Publications like The New Yorker, NPR, The Paris Review, The New York Review of Books, The Millions, Publishers Weekly, Library Journal, The Believer, and Electric Literature
Publishers from Random House to Tin House, Oxford University Press to The Feminist Press, Penguin Teen to Chronicle Books
Some bookish content has a humorous slant. Check out Slaughterhouse 90210, where literary quotes meet TV screencaps; Last Night's Reading, where author events are illustrated with Magic Marker; and Proof Reading, where books are paired with the perfect cocktail. Books are drawn in crayon, or recommended by professional librarians or Lisa Simpson. Sometimes they get new titles—or just googly eyes.
How is Tumblr different from other social media I use? 
It's different from a website or other blog because every post you make distributes to your followers and can spread around our huge network. People don't have to remember to come to you. When a reader hits "reblog" your post goes all their followers, too, so the opportunity to go viral is built right in.
It's different from Twitter because you can write as much as you like, with no character limits, plus it displays all your images, video, gifs, or reviews without requiring readers to click links. 
It's different from Facebook because it's much less about who you know and who they know than what you're into and what those people are also into. You follow someone because you like their taste in books, not because you went to summer camp with them twenty years ago.
What kind of things do authors post?
Here's Edan Lepucki advertising a Goodreads giveaway. Here's Maureen Johnson sharing a hilarious story about working with Random House. Here's Sean Howe spreading the word about a bookstore event. Here's Rainbow Rowell joking with her fans about fictional books inside YA novels. Here's Roxane Gay sharing her favorite books of 2013. Here's Rob Delaney answering fan questions about his writing process. Here's Seth Fishman sharing blurbs and thanking his supporters. Here's Emma Straub showing us her travel reading.
So how do I get started?
Don't get fancy with your URL. FirstnameLastname.tumblr.com makes it easy for people to find you, and will last longer than one book's marketing campaign. (You can still make the title of the blog You Rach You Lose or Release McCracken.) Your Tumblr can be your main personal website or professional homepage, or it can be an additional social platform just for fun. It's free and doesn't require any technical skill. Make sure you upload an image to be your avatar and choose a theme from our theme garden to customize your look.
Then what?
Find people to follow. You can start here. There are recommended blogs in "Books" and "Writers" and "Poetry"—plus maybe you have other interests. Food? Politics? Fashion? It's all there!
How do I find things that interest me?
Aside from reading your dashboard, you can find relevant posts using the search box in the upper right corner. Try looking up your name or the name of one of your books. You can also try favorite authors or foods or musicians. Like posts, and follow people who seem to talk about things you care about.
How do they find me?
Tag all your posts with relevant topics like "books" or "lit" or "Knopf." These tags will help you get discovered beyond the people who already follow you.
Like and reblog actively. You'll get a sense of what's popular in your community and people will start to notice you.
Keep a balance of blogging about yourself or your writing and blogging about other people's work and things you enjoy. This ensures you're joining a conversation and not just shouting advertisements.
You can also ask and answer questions—a great way to share book recommendations, brainstorm titles, and learn what's on your readers' minds.
Is this going to take up all my time?
Only if you want it to! It's really fun, but you can use a few tricks to keep it quick.
On the Apps page, grab a Bookmarklet for your browser. This nifty little tool makes it incredibly quick and easy to incorporate blogging into your daily life, and makes reading the Internet a more useful task. Click it whenever you want to blog something you see on a website. Text that is highlighted will automatically be quoted. Photos will automatically be captured in the photo tab. YouTube pages will be ready to go on the video tab, with no embed code required. Most important, credit will already be linked to the source. You can also add your response, analysis, and commentary.
Another key is to hit "track" on your favorite tag searches. That way you'll see a little number alerting you when anyone posts with those keywords. You can like or reblog posts; those people will discover you, and your followers will discover them.
Want to see more book-related Tumblrs?
The Millions wrote a great three–part series about them. You could also check out the Tumblr spotlight or the comprehensive books-on-Tumblr.
Follow Rachel Fershleiser, our guest contributor from Tumblr, for more recommendations.