It's been a busy month for the Author Development team! We're excited to share two of our latest projects: Author University 2022 and key updates to the Author Portal homepage. Read on to learn more!
Author University 2022: Videos on Demand
Back in early 2021, the Author Development team at Penguin Random House launched Author University, a series of virtual master classes for authors. Each event featured breakout PRH authors as panelists who shared insights on how to grow reach on social media, collaborate with other authors, connect with readers, and more. A year later, these master classes have hosted hundreds of PRH author attendees from across the globe.
Last month, Author University 2022: Master Classes for Authors kicked off with a series of inspiring panels, social hours, and even our first ever hands-on workshop. For those of you who couldn't attend or who want to review the content again, we have good news: All the panel discussions from the Bonus Sessions are now available to view on the Author Portal!
These videos have just been uploaded to the Author Portal:
How to Pitch Your Book: Random House VP & Director of Marketing and Media Training Barbara Fillon chats with author Lauren Smith Brody about the best ways to master the art of the book pitch.
How to Debut Panel: Authors Kali Fajardo-Anstine, Ayana Gray, and Danielle Henderson discuss their tactics for successful debuts, including self-promoting through social media, communicating with independent booksellers, and playing to one's strengths.
PRH U.S. CEO Madeline McIntosh in Conversation with New York Times Bestselling Authors: This panel featured New York Times bestselling authors Pierce Brown, Marlon James, and Jodi Picoult in conversation with PRH U.S. CEO Madeline McIntosh.
To those of you who attended the sessions live and took the time to fill out our survey, thank you for sharing your thoughts and ideas! We are thrilled to be bringing the program back later this year, so stay tuned for more from Author University.
Author Portal: Homepage Design Update
 If you've logged in to the Author Portal recently, you might have spotted some design changes to the homepage. While the tools that deliver sales data every week have stayed the same, we decided to highlight some of our other key programs, such as the Author Newsletter and Author University, to make sure authors have access to all the tools they need to build their career.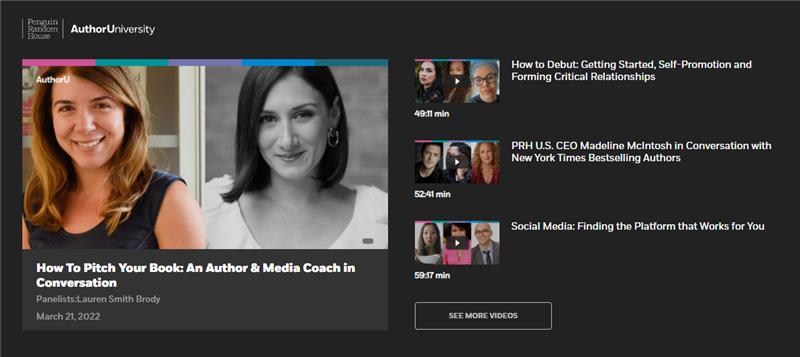 Some main features of this update:
50% Author Discount – Though this special PRH.com discount for authors was always a part of the portal homepage, we've repositioned it near the top of the screen to make it more easily accessible.
Publishers Lunch Article Previews – Keep up with industry news with previews of Publishers Lunch articles as they happen.
NEW Author University Widget – Did you miss the latest round of Author University? Do you want to revisit prior sessions? We've added the Author University program to the portal homepage. Browse the newest sessions now!
News for Authors & Popular Resources – Special news and updates from Penguin Random House as well as popular marketing tips from the Author Newsletter will appear in this section.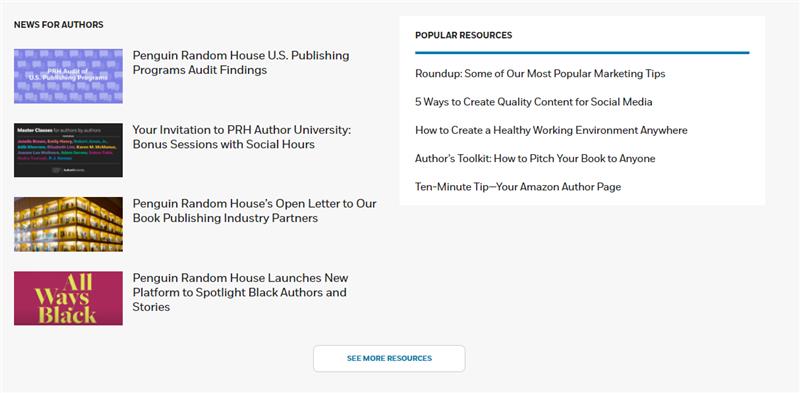 We hope you enjoy the new design of the Author Portal homepage. We look forward to future changes that will give you an even smoother, cleaner experience navigating the Author Portal. More to come soon!
Phil Stamper-Halpin is Associate Director, Author Development for Penguin Random House.