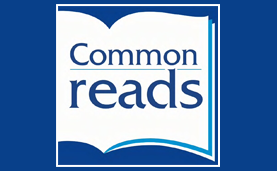 Many students around the country have dedicated time this summer to reading one book in particular: a common reading book assigned by a college or university to incoming first-year students. Over the past several years there has been a dramatic rise in the number of college and universities (now more than three hundred) that assign a common reading book—from small liberal arts colleges to large public institutions to Ivy League universities. 
Much like community-wide reading programs, Freshman Year Reading programs are designed to increase student engagement and involvement through a shared experience that helps students from different backgrounds and academic interests to integrate into a learning community. Often, the author is invited to speak and interact with the students on campus.  
Working closely with all areas of publishing, from the Random House Speakers Bureau to Premium Sales, Random House's Academic Marketing departments devote a great deal of energy and expertise to placing appropriate RH titles and authors into these programs. The selection of an author's book can translate to large sales, great publicity, and sometimes even paid speaking engagements. Titles that have sold thousands of copies in this channel include Dave Eggers's Zeitoun, Wes Moore's The Other Wes Moore, Rebecca Skloot's The Immortal Life of Henrietta Lacks, and Markus Zusak's The Book Thief. 
Which Books Work Well?
Our experience shows that schools primarily (though not exclusively) adopt nonfiction titles, as well as books that speak to multiple disciplines and will engage the support of departments across campus, that are shorter than three hundred and twenty pages, and that are available in modestly priced paperback editions. Price is a factor, both in cases where the students are expected to purchase the book themselves and on the frequent occasions when the university will purchase the book in bulk to distribute free to the incoming class.
How Do We Promote Authors and Titles to Decision-Makers?
Annual Conference:
For nearly a decade, Random House has exhibited at the annual First-Year Experience® (FYE) conference attended by two thousand administrators and faculty. At the conference we host well-attended author luncheons and dinners, where Random House authors get the opportunity to speak to hundreds of program organizers looking for that one book for all of their students to read. Video from the event is posted on YouTube (and can be seen here). Check out photos from the 2013 conference below.
The Advisory Board:
We have the unique benefit of a Common Reading Advisory Board assembled by Random House and composed of program directors from a variety of institutions, including large public universities, midsized religious institutions, and small liberal arts colleges. This nine-member board's chief role is to advise Random House and its authors about trends and opportunities for common reading adoptions. Singular among trade publishers, the board meets every October in Random House's New York City headquarters for an intensive two-day summit.
Marketing Outreach:
In addition, we market titles through a variety of outreach channels, including special events, social media, direct mail, and targeted email campaigns—all focused on building relationships with key decision-makers. Random House has a robust social media presence that includes a blog, a monthly opt-in e-newsletter, two Facebook pages, a Twitter account, and a free app—all designed to put our titles and authors front and center. An extensive and comprehensive email list of key faculty and administrators is utilized to keep decision-makers regularly informed of new titles and books of particular interest to their programs. Complementing its cutting-edge digital marketing, Random House also produces four-color print catalogues that are mailed twice a year to schools, which are marked up and passed around committees as they discuss potential selections.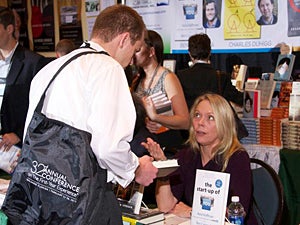 Freshman Year Reading is not only a great program for student and campus development, but also a great opportunity for our authors to gain exposure and reach.
All photos taken at the 2013 First-Year Experience® Conference.