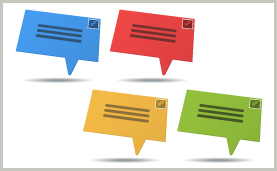 Email newsletters are a great way to stay connected with readers. From promoting your new books to keeping your readers engaged between publications, email can strengthen your relationship with your fan base.
When launching an email program for your readers, there are several questions you may find yourself asking:
1) Which service provider should I choose?
Email service providers allow you to manage subscribers, create and send emails, and run reports, all in one system. MailChimp is a often a good choice for authors, as it is well-priced and very user-friendly. Other good service providers include Constant Contact and AWeber.
2) How can I get newsletter subscribers?
Subscribers can be acquired from many sources, including:
Websites/blogs/Facebook: Simple forms allow fans to sign up for your newsletter when visiting your website or blog. Most email providers have tools on their websites to generate code you can paste into your website or blog. They will often offer tools to add a subscription form to your Facebook page as well.
Events: New subscribers can be acquired at events such as book signings and literary conventions. Here's a time-saving tip: Avoid having to manually type information into a computer after an event by using an iPad/tablet computer to capture email addresses during the event.
Sweepstakes and contests: A nice way to get email subscribers is to offer them a chance to win something—for example, a special excerpt, a short story, a video, or even a visit from you to their book club (Skype can work well for this).
Email marketing best practice: When collecting addresses at events, it's important to let attendees know that they are signing up to receive email by providing their email address. Sending emails to addresses that have not signed up to receive your newsletters can lead to deliverability problems (your newsletters may be blocked or delivered to spam folders). 
3) What are the key elements in a successful email newsletter?
A successful newsletter has several important aspects:
Inviting subject lines: First impressions count! Your subject line is the first feature of your campaign that your audience will see. Keeping a subject line relevant and enticing can help your open rates.
Email marketing best practice: Many email programs will cut off a subject line at fifty characters, so keep subject lines short. Some email programs will allow you to run "A/B tests," where you send the same email with different subject lines to two small random samples of your list. You can then email the rest of the list the version that performs best.
"View as a webpage" link: Most email service providers allow you to create a web version of your newsletter that can be linked to within your email. This link allows subscribers to view the email in a web browser if the message isn't displaying properly within their inbox.
Relevant campaign content: Subscribers signed up to receive your newsletters because they want to hear from you. Consider using a greeting at the beginning of each email to personalize your message (i.e., Dear Reader). In the body of your newsletter, include information about you and your books. To encourage subscriber interaction, include links to your social media pages and website. Your newsletter should also contain a mix of text (your message) and images (images of yourself, your book covers, book signings, etc.).
Email marketing best practice: Test your emails to pick up any mistakes before the final send. Set up email addresses at Gmail, Yahoo, AOL, and Hotmail and save them as a "test" list. Send your email to that test list and review the content in each of those accounts before you send to your real subscriber list.
4) How do I make sure my email campaign is legal?
The CAN-SPAM Act is a federal law that establishes rules for all commercial emails (including newsletters). Here are the main points to bear in mind:
Email headers (which consist of the "from" address, sending domain, etc.) must be clear and identify the sender.
Subject lines cannot be misleading.
A physical postal address must be included in every email (usually in the footer).
Subscribers must be given a clear/straightforward way to opt out of future emails.
Unsubscribe requests must be honored within ten business days.
Every newsletter should contain a privacy policy (identifying how email addresses will be used).
As the sender, it is your responsibility to make sure your emails are compliant with the law.
Here's some additional information about the CAN-SPAM Act.
Jessica Loffredo, Email Newsletter Program Manager