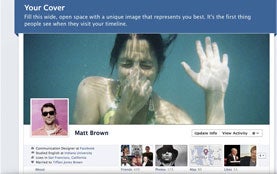 On March 29, 2012, Facebook introduced the new Timeline look and feel for pages. Here are five tips to help you make the most of Timeline:
– Add a cover image to complement your profile picture, such as artwork from your book or a colorful abstract photo. Because of the particular space requirements, it can be tricky to find the right image. You may want to try a few and see what works best. This article has great examples of cover images and tools.
– In Timeline there are no longer links down the left-hand side of the page. Apps you have installed are now displayed in rectangles along the top of the page. Only three apps are visible at the top level so you may want to rearrange yours to make sure the ones you really like are visible.
– You can add photos, posts, and milestones such as important life events to help give your Timeline history more personality.
– You can keep a post you are particularly proud of at the top of the page with the new "pinning" feature. The post will become unpinned after seven days or when another post is pinned, if sooner.
– To reduce clutter, Timeline has a private message feature where you can conduct a private conversation with users, out of sight of the main page.
For more tips on Timeline and a live demonstration, please join us for our "Making the Most of Timeline" webinar on May 10.