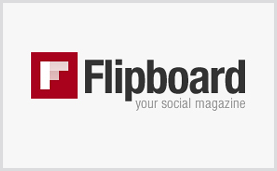 Would your readers like to immerse themselves in the world of your book? Now you can help them do just that, using the online magazine platform Flipboard.
Flipboard is a news and social media aggregation platform with eighty-five million users that allows people to easily create magazines from content that is already on the web. By creating a magazine with news stories, images related to your content and characters, and a smattering of new material, you can continue to engage and entertain readers after they have finished your book. Examples of Flipboard magazines related to books include MaddAddam's World, curated by Margaret Atwood (based on her new novel, MaddAddam), and The World of Ice and Fire,the George R.R. Martin magazine, curated by Westeros.org. Additionally, Well Read is a Flipboard magazine for the well-rounded bookworm. Random House's publicity team scours newspapers and blogs daily to deliver the day's cultural and literary news in one, easy to read format.
Creating your own magazine on Flipboard is easy and fun.
The World of Ice and Fire:
MaddAddam's World: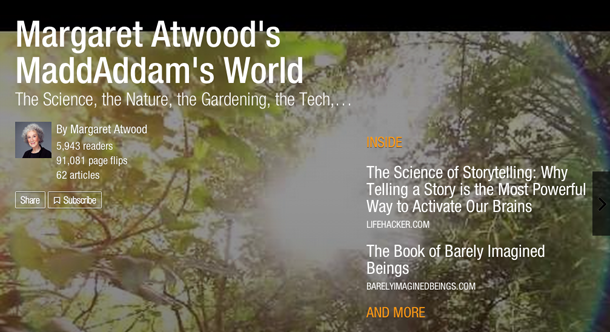 Well Read: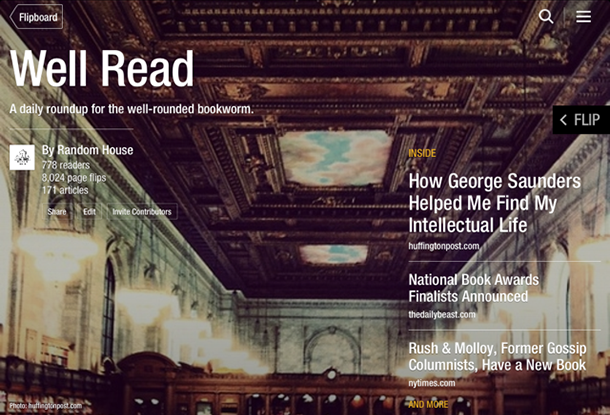 Here's how to get started.
Go to share.flipboard.com and install the "Flip It" bookmarklet (which will allow you to add content to your magazines directly from your web browser).
Start browsing the web, and when you find something you want to add to your magazine, click the "Flip It" button (you'll be prompted to log in the first time). Consider adding content from blogs—including your own—and sites that relate to your book.
Click "Create a Magazine" and customize it by adding a name and description. Then simply start adding content. You can also easily create a magazine from within the app.
Once you're done, check out your magazine on Flipboard, where you'll see your "flipped" items in a beautiful print-style layout. The app can be visually stunning, so in addition to text (articles) make sure to include lots of images—they'll look great and draw readers in!
You'll get notifications in the app when people like, comment on, or subscribe to your magazines—so be sure to check.
To tell people about your magazine, click the "Share" button on the cover. This will generate a custom link that you can post via Facebook and Twitter, or send via email.
If you prefer to manage your magazines from the web, go to editor.flipboard.com and log in with your Flipboard account. There you'll be able to rearrange and delete items, set covers, and share your magazines.
Magazines by authors, publishers, and other Flipboard readers are featured regularly in the content guide under "New & Noteworthy" and "By Our Readers."
Ben Steinberg is part of the Digital Channel Development team. Milena Schmidt is part of the Digital Publishing Group.