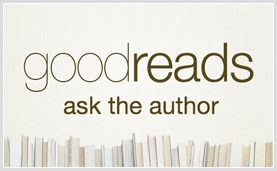 Readers use Goodreads to discover books online, and to share books that they love. More than 25 million members and 100,000 authors use the site. Because Goodreads focuses directly on readers and on helping them discover new titles, authors who use the site strategically have a direct way to engage and interact with fans and prospective fans: users who have read or will read your books.
The "Ask the Author" program gives authors the opportunity to answer questions submitted by Goodreads users. From the Author Dashboard, you can answer, skip, or flag questions. Questions that you answer will be visible to the community, with all answers collected on one page. All unanswered questions will be invisible to everyone except you. Once you reply to a question, it will be promoted on the newsfeed of the member who asked it, which in turn promotes the post and your author profile to all of that member's friends on the platform.
One great feature about the program is that it gives authors full control over how they engage with members. You can set the rules in regards to what kinds of questions you will answer, the number of questions you are prepared for, and which books you will address.
If you aren't familiar with Goodreads already, we have more tips below on how best to use Goodreads to promote your books:
A major attraction of the site is its use of social integration, which allows users to connect other social media accounts to their Goodreads account. This promotes sharing across multiple platforms, increases discoverability, and allows content to go beyond Goodreads, creating buzz around you and your book.
Goodreads has some general uses, but also more customized uses for authors with a higher level of reader awareness.
General Uses:
1. Claim your author profile: The most important thing to do on Goodreads is to claim your author profile. Find your profile by searching your name on the site and clicking on the "claim your author profile" link on the page.
2. Make your author profile stand out: Engage with your profile by adding a blog or creating bookshelves. A blog will help you speak directly to your fans and followers, who will see your posts on their newsfeed. Also, users who mark you as a "favorite author" will receive email digests of all your new posts. Creating an "influences" shelf and adding your favorite books or books that have inspired you as a writer will also make your profile stand out.
3. Start or join a group: Groups are a great place to meet readers and learn more about them. Engaging with groups is especially important pre-publication. Join groups as a reader first, and discuss books you're passionate about—not just your own book. This is a community.
In addition to general uses of Goodreads, there are many customized uses for authors. Contact your marketing team if you are interested in exploring any of the options below.
Customized Uses:
Debut Authors
Pre-publication giveaways: This is a great way to help kick-start book discovery. Giveaways are promoted socially on Goodreads (about  four months before publication), and they encourage users to add the book to their "to-read" shelf. On the publication date, these users receive emails notifying them that the book is available.
Featured author group: For titles that perform well (at least 2,000 ratings), Goodreads will set up and promote featured author discussions. Authors are encouraged to team up to meet Goodreads' criteria for participation.
Multiple-Title Authors
Add Goodreads to your author site: This is a good way to get reviews and to include them on your site. You can customize the feed and feature only five-star reviews, for example.
Add Goodreads tab to your Facebook page: This tab can be added via the Author Dashboard, and is a good way to feature your overall star ranking on Facebook. However, it's not very customizable.
Pre-publication giveaways: In addition to a giveaway four months before publication, it is beneficial to have a second giveaway that ends right at the publication date. This will create awareness for the title while also generating additional placement on "to-read" shelves.
Promote on editorial newsletters: This is effective at your publication date, using video interviews, questions to the author, trivia, or quotes to promote your book. This content is featured on the Goodreads site. Your publicist pitches you for this promotion, and it is customizable.
Marquee Authors
Pre-publication giveaways: This is encouraged to raise awareness and secure the "on-sale date" email that will be sent to users.
Cover reveals: This builds anticipation, awareness, and the number of users who add your book to their "to-read" shelf. This doesn't need to be exclusive to Goodreads.
Personal selection email: You can send an email to fans who have read your books and rated them—but you need to have more than 50,000 total ratings. (This is an ad product.)
Homepage roadblock: Your book can be featured on the Goodreads homepage. (This is also an ad product.)
Fan groups: Start a group to support your title and to engage with your fans. Fan groups can be supported with ads.