School visits are a memorable way for students to learn about the power of writing stories. They are helpful for teachers because they support literacy instruction, and they are awesome for authors and illustrators because you can interact with readers. But planning a school visit can be daunting. Focus on preparation and personalization. Kids remember the special stuff that happens at school. Be sparkly!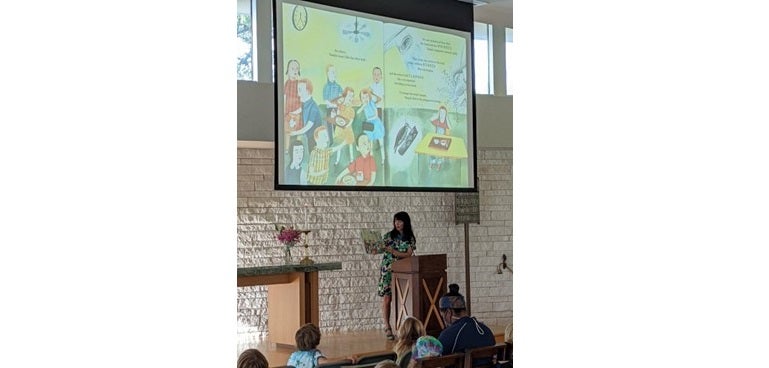 Plan ahead
It's ideal to arrange visits several months to a year in advance. Here are some important questions to ask when you are structuring your visit:
1.Who will the audience be? What are their grade levels?
Create different presentations for lower elementary (kindergarten to second grade) and upper elementary (third to fifth grade) students, adjusted for the age of the participants. For kindergarten to second grade, twenty to thirty minutes is appropriate; third to fifth graders can manage thirty to forty-five minutes.
2.How many sessions are planned? How many students are in each session?
Depending on the size and length of the sessions, many authors and illustrators limit themselves to three per day.
3.What type of presentations will you be making?
Options may include:
Assembly-style presentation for several grades in an auditorium or gymnasium. This may include topics such as your pathway to getting published, details about your writing or illustration process, and where you find inspiration and ideas.
Story time and chat with an activity or a Q and A session.
Small interactive author-led workshops in classrooms.
Any combination of the above!
You may also be asked to do book signings and/or have lunch with students or teachers.
4.How will your day be scheduled?
Make sure you request time for setup and breaks between groups. If you are invited to have lunch with students, bring snacks for other breaks, in case you don't have a chance to chew at lunch!
Connect
Ask your contact for details about other upcoming school events and what they are hoping students will gain from your visit. Are you a science expert? Ask if there is an upcoming science fair. I've connected with art teachers to help create mural projects for a district art show. Many authors lead writing workshops if they are doing classroom visits. What is something unique that you can offer?
Book sales
School visits are a way for authors to earn extra income and sell signed books. Talk to your school contact about coordinating sales with a local bookstore. Sometimes the store will provide credits or discounts for the school library based on the number of books sold.
Be yourself!
Think of a school visit like a picture book, with a beginning, middle, and end. You are the main character. Wear something snazzy. Smile. To begin, chat with the students as they find their seats, which will help you to warm up and calm down. Most of the time someone will introduce you. Greet the students. ("Hi, friends!" always works.)
Lean in to your expertise. If you write about a particular topic, like snails, focus your talk on something snail-adjacent, like science or nature. Do you write biographies or poetry? Are you an illustrator? Incorporate those themes and skills into your presentation with an activity. Enthusiasm is contagious. Be brief, but don't spare the details.
I suggest creating a PowerPoint presentation. You don't need a lot of slides or anything fancy, but you can use the images to help engage, entertain, and educate your audience. The first part of the presentation should focus on your book. If you are speaking to large groups, display your book on a large screen. Practice reading from your book in this format, and use your best reading voice to delight your readers. If there are points when you can ask questions or get kids to raise their hands, do it!
The next section is about you! Who are you and why do you write about snails? In this section, I show pictures of me as a kid with my nose in a book. I talk about my love of reading and art and my struggles as a writer. I explain that writing is a practice, like dance, basketball, or playing the drums. "Raise your hands if there is something that you practice," I say. Every hand goes up.
I talk about where my ideas come from—my story sparks! I'm an arts advocate and my books are about artists and creative problem solvers, so I share with students how I use my interests to tell stories. Then I ask students to think about a few things they do or enjoy that could be their story sparks. On the count of three, I give them a moment to shout out one thing they love. It's noisy, but it is a way for everyone to share. If I'm doing writing workshops, we use their story sparks to write poetry.
Make and take
Use the final part of your presentation to do a project. If you don't have time to do an activity with the students, you can give out bookmarks or coloring sheets to extend the experience. Curious students will leave bursting with ideas and stories to tell.
Have fun!
School visits are the BEST! There are tiny toilets, hallways filled with colorful creations, the mouthwatering scent of cafeteria gravy, and squirmy, giggling students with wild imaginations who are eager to know all about you.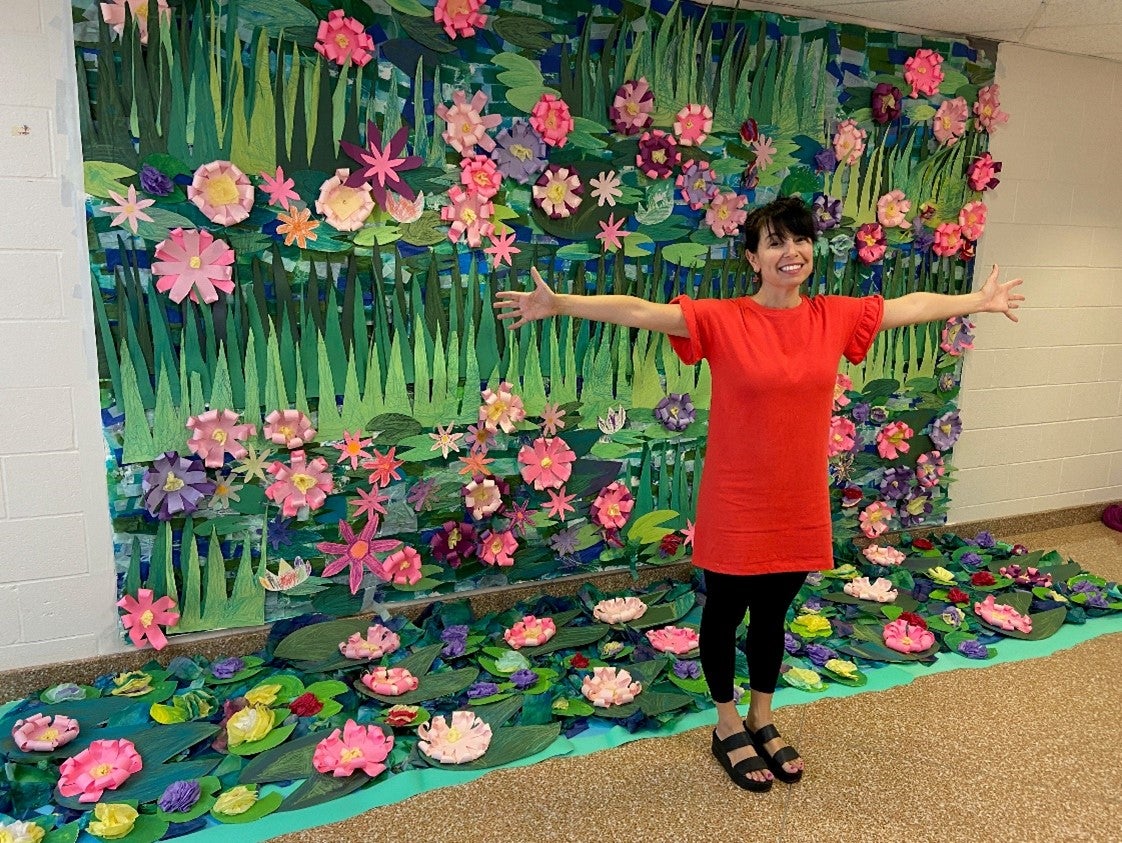 Q and A
Leave at least ten minutes for questions. Ask teachers to have students think about the questions they are going to ask and write them down before the presentation.
Have a conversation with the kids. Hopefully, the things you share in your discussion will inspire even more questions.
Other helpful tips
Create a school visit guide with your contact information, website, name pronunciation, biography, pictures of your books, and details about different presentations. I give options for younger elementary and older elementary students, and professional development workshops as well.
Be flexible!
Schools run on a schedule. Having a guest is a treat, but it is also tricky for teachers to change their routines. Try to be understanding if classes show up late or early.
One week before: Confirm dates, times, schedules, address, and contacts—and check your tech! If you are using Google slides or a PowerPoint–style presentation, confirm that a projector and screen will be set up before you arrive. Send a copy of your slideshow to your contact to make sure it works on the school computer. If you are bringing your own laptop, confirm that the school has the proper cables to connect it to the projector. If you are using a flash drive, make sure you leave time to test it on the day of the event. Always request a microphone if you are speaking in a space larger than a classroom. Ask about school rules for taking and sharing photographs of students. Plan your outfit in advance—something fun and flexible!
One day before: Get plenty of sleep. Make sure you have directions, itinerary, and contact information. Charge devices and check your presentation (for the seventy-ninth time!). Pack a school bag with snacks, mints, tissues, hand sanitizer, ten dollars in cash, and a photo ID.
Day of: Wear comfortable shoes and leave early.
After the visit: Send thank-you notes. Keep in touch with the librarian and send updates when you have new books.
School visits teach us so much about our readers. Every time I meet a new group of students, I leave full of joy and hope, with new stories to tell.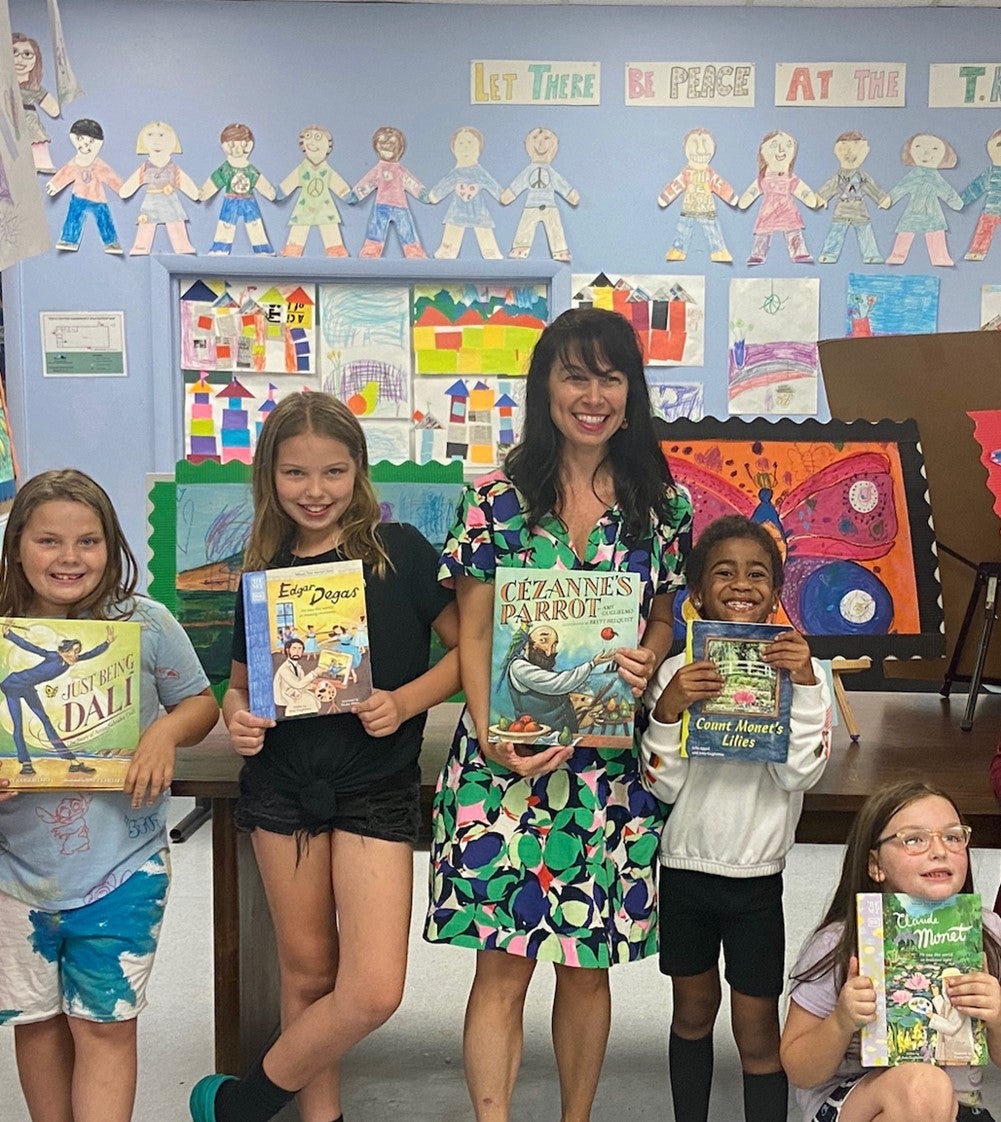 Amy Guglielmo is an arts advocate and the author of JUST BEING DALÍ: The Story of Artist Salvador Dalí (Putnam) and the WHAT THE ARTIST SAW series with The Metropolitan Museum of Art and DK (Penguin). You can reach her at www.amyguglielmo.com.