We're excited to announce a major upgrade to the Author Portal: the online Author Questionnaire, which gives you the ability to submit information about yourself and your upcoming titles to help shape marketing and publicity strategies for your next book. We have also updated the Profile Page to make it much easier for you to update personal information in our records. Read on to learn more about how you should use these tools.
First, What's the Author Questionnaire?
The Author Questionnaire is an important tool for your publishing team in the creation of promotional strategies for your titles. If you've already published a book with Penguin Random House, you've likely received this form in the past as a Word document. The form asks general questions about you and your background or other books you may have previously published, and many questions about your upcoming title. Your answers help your marketing and publicity teams come up with strategies for getting your book in front of as many readers as possible.
If you have not yet published with us—or the on-sale date for your next title is more than a year away—you may not have received this document yet, but you will see it on the Author Portal and you can start filling in data already.
Here's how the new tool works:
About You Questionnaire
Clicking the Author Questionnaire link under Your Profile will take you to the Author Questionnaire page. The first section you will see is About You, which features questions about you. As these questions are specific to you and not your titles, you only have to fill this section out once. You will always have access to this part of the questionnaire, and you can come back and update your answers at any time.
Even if you don't have an upcoming title scheduled, we encourage you to keep sections such as Online Presence updated so we can be notified of any changes.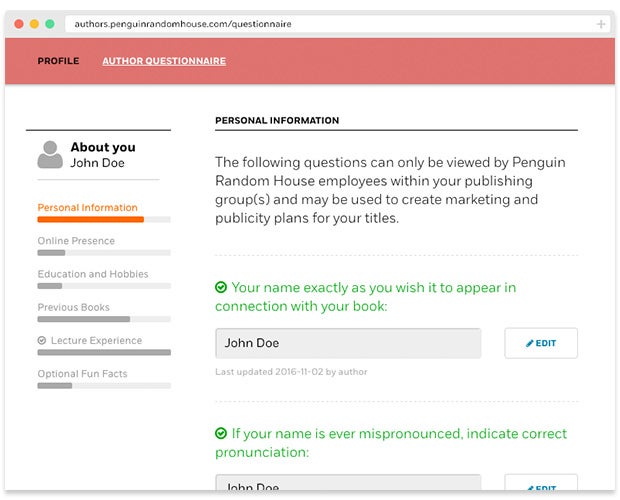 Active Title Questionnaires
When an upcoming title is within eighteen months of its on-sale date, it will appear in the Active Title section and you can enter information. You can edit content anytime in that eighteen-month window, right up until the on-sale date. However, note that after your title goes on sale, this Title Questionnaire will no longer be available for editing (see below).
If you have already filled out a questionnaire for this title in another format, you don't need to also do the online version. Don't worry—we already have your information!
These title-specific questions are critical in building the marketing campaign for your upcoming book—and while the editing window lasts eighteen months, we encourage you to fill out the information as soon as possible. If you have questions about the information requested, please reach out to your editor or your marketing or publicity team directly.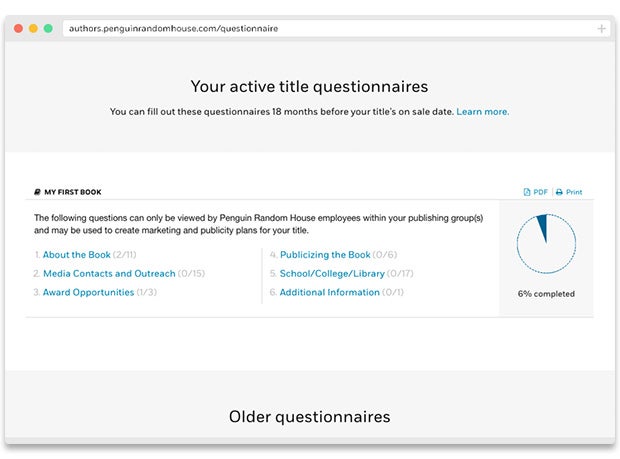 What Happens to a Questionnaire I've Already Submitted?
In most cases, we have not uploaded previous questionnaires to the tool. But don't worry, your publishing team has your information (even if you submitted it recently). So don't be alarmed if you don't see this information on the Author Portal.
Over time, after you fill out a questionnaire and that title goes on sale, it will move into the Older Questionnaire section. The information is still available for viewing, but you can no longer submit new content. However, if a new edition of that same book goes on sale—for example, the paperback releases after the questionnaire for the hardcover has moved into Older Questionnaires—then the questionnaire will automatically move back into the Active Title section and you can update information as needed.
What Else?
In addition to launching this easy-to-use interface, we've added a few more functional highlights:
Pre-Population: If you have filled out a questionnaire for a title that's already on sale and have a new title coming up, you can easily copy title information from older questionnaires.
Print or Export is available for any section of your questionnaires.
Notifications: On each question, you will see a time stamp indicating the last time the question was updated by you or your publishing team.
Publishing Team Access: Your publishing team has access to the information you enter and will be alerted when you've made updates.
Updated Profile Page
Lastly, we've upgraded your existing Profile Page to better capture information and make updating it a more seamless process for you. You will now be able to update the email addresses, phone numbers, and business addresses we have on record straight from the portal. We've also added a few new fields, including one for home addresses, so we know where to send marketing and publicity materials, if applicable.
Please note that all of these questions are optional. And if you'd prefer to fill out the questionnaire via PDF, you can download a blank questionnaire from the FAQ section.
We hope you find these new features easy and convenient. If you have suggestions for other new features you'd like to see on the Author Portal, please reach out to us at portaladmin@penguinrandomhouse.com.
If you haven't yet registered for the Author Portal, click here to create an account and track your sales data, access your royalty statements, see subsidiary rights information, and more!