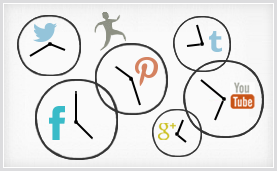 Building a social media presence can be important to your success as an author, but it can also be a significant time investment. We share our best tips on how to manage your social media efforts most effectively.
Why Build Your Presence on Social Media?
Social media is a great opportunity for authors to:
– Grow your own communities
– Provide a place for readers to discuss your work
– Build loyalty by giving readers something special
– Connect with other influential people in the writing and publishing community
However, social media can also be an endless "time sink" and a distraction from writing—an author's real day job. Here are some thoughts on how to manage your social media time effectively.
Don't Spread Yourself Too Thin
It is much better to do an awesome job on one social media platform than to spread yourself thin over multiple platforms. You may want to experiment with a few different platforms at the get-go, but then focus on the one that works best for you. Different platforms have different audiences and support different kinds of content, which may sway your decision. Here are some of the most popular:
– Facebook is the biggest social media platform, with more than one billion users worldwide. There are slightly more female users than male. 31 percent of users are in the 35 to 54 age range; the fastest-growing age group is users aged 55 and up, whereas enrollment of users from ages 13 to 17 is shrinking. Facebook users respond well to photos, videos, and inspirational quotes.
– Twitter may not have as many users as Google+ or LinkedIn, but it makes up for its numbers through the intensity with which it is used, with 5,700 tweets every second. Twitter adoption is particularly high among minorities and 18-to-29 year olds. Each Twitter post is limited to 140 characters, and people often tweet 5 to 10 times per day.
– Pinterest is a female-dominated platform; 83 percent of users are women. Pinterest content consists of themed visual boards. Although its focus has been on crafts, décor, cooking, and fashion, we have found that books do well too. 45 percent of users are between 35 and 54 years old.
– Tumblr is a great platform for the younger set—67 percent of users are under 35. Users can post text, videos, or music, and can easily repost other people's content, including fan art and fan fiction. Users skew slightly more female than male.
– Google+ has an audience that is concentrated in the 25-to-34 age range, and is 70 percent male. Although the Google+ audience is large, we have found engagement on this platform to be relatively low. However, having a Google+ account is useful for boosting your website's Google search rankings and for holding Google Hangouts (live interactive events).
– LinkedIn also has a big audience, and should be considered by nonfiction authors who are interested in posting regularly under its publishing or influencer programs.
Time Management Tips
– Expect to spend significant time building your network on any social media platform. Once you have a network, finding content will become much easier.
– Consistency and continuity are critical. We recommend setting aside 30 minutes per day to find content and interact with others.
– If you want to space posts throughout the day, consider a tool such as Hootsuite, which will let you schedule posts in advance for Facebook and/or Twitter.
– Make sure you let people know that they can engage with you on your social media channels by listing them on your website, email signature, business card, etc.

Finding Content
Authors often realize that they're spending a lot of time finding content to share on social media. Here are some ideas about how to locate regular sources of content:
– Twitter is great for finding content because people often use it to share breaking news, and tweets are easy to scan quickly.
– An RSS reader (e.g., Feedly) can enable you to subscribe to blogs so you can easily see all new posts in one place. Another option would be an app like Flipboard or Pulse, which you can use to draw in content by category.
– Google alerts can be great to monitor new mentions of a specific keyword (even mentions of your own name!).
– Fans love a behind-the-scenes look into the life of an author; photos and anecdotes about your writing life should be well received.
– Fans can also be great sources of content, so encourage them to communicate back and share ideas.
– Seasonal or offbeat holidays, such as Talk Like a Pirate Day, can be useful content fallbacks.