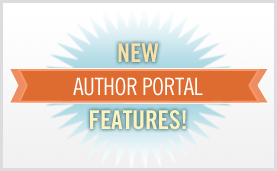 We've added three exciting new features to the Random House Author Portal! You can now easily download high-resolution images of your book covers, access a collection of review excerpts for your titles, and view the bestseller history for your books over the past ten years. Read on to find out how you can take advantage of these tools and tell us what you think!
If you have already set up an Author Portal account, you can access all three features from the homepage after you've logged in. On the list of "Your Active Titles," you will find a "Title Information" drop-down menu with links to the new informational tools.
Here is some more information on each feature:
Use the Download Book Cover tool to add a high-resolution image of your title to your website, blog, and social media accounts, or include it in your next email blast to fans. Each file is a 450-pixel-tall JPEG. The format list allows you to download files for all formats available on www.penguinrandomhouse.com. For titles that have not yet been published, jackets will become available for download once the jacket is approved and uploaded to randomhouse.com.
Check out the Review Excerpts Database to access and download review excerpts for your titles from over seventy publications, going back to 2002. Each review excerpt comes with information on the publication source, the reviewer's name, and the publication date of the review. If the review has been posted in the last two years, then we link to the full-length review on the source publication's website. For older reviews, we link to the publication's homepage, since many websites don't host reviews for more than two years. The reviews link only shows up for those titles with at least one review captured in the database. While the database is not comprehensive, it does capture a majority of book reviews published in the last ten years.
In the Reviews section, we also include a link to the "Public Praise" tab on the Random House website, which captures review excerpts that we curate and feed out to the public and to accounts as part of your title information.
A new Bestseller Rankings Database tracks where and when your title has appeared across various bestseller lists from nine major U.S. publications and retailers for the last ten years. This tool displays bestseller ranking data for all formats of your title in one comprehensive view.
How does it work? We collect the weekly bestseller data for your title and roll it up to a week ending on Sunday, so you have a consistent view. The tool adjusts automatically, and the "Choose a Title" bar at the top of the database will indicate which titles have data by graying-out titles that have not yet hit a bestseller list. As with the Reviews tool, the link only appears in the "Your Active Title" list if there is bestseller history for your title.
What else can you do? Try clicking the "Excel" button to export the entire table for your own personal records. You can also select specific publication sources or reverse the sorting of the "Week Ending" column to see when your book first appeared on a list.
We hope that these tools prove valuable to you and look forward to hearing your feedback and suggestions for future enhancements we can make to the Author Portal.
Haven't registered for the Author Portal yet? You can create an account by clicking here.