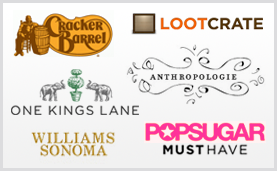 As the holiday shopping season kicks into high gear, we're taking a look at the world of Special Markets at Random House. This team ensures your books are just an impulse purchase away via more than 20,000 nontraditional booksellers nationwide, such as Buy Buy Baby, Cracker Barrel, Williams-Sonoma, and even Country Inns & Suites. This group of sales professionals also seeks out new opportunities for books through flash-sales sites, monthly subscription boxes, mail order catalogs, and any other burgeoning nontraditional retail channels.
"We have a very vibrant business because we effectively curate in a marketplace where no two customers want the same thing," says Pam Roman, vice president and director of special markets.
New Opportunities
The account base in the Special Markets space is constantly changing. Some of the newest and most exciting developments are the rise of subscription boxes, which offer a curated assortment of products to subscribers, and flash sales, which exist in various categories from food to fashion and offer limited-time deals on products and services. The team has scored subscription-box placements for titles such as World War Z by Max Brooks in Loot Crate and Questions I Ask When I Want to Talk About Myself by Mindy Kaling in a PopSugar Must Have Box. Flash-sale sites such as One Kings Lane, Zulily, and Gilt also feature books. Roman notes, "We aren't just competing with books in this space, but with all products that reach a specific demographic. This makes for a challenging pitch, but placement comes with high rewards."
Reviving Backlist Titles
The world of Special Markets also provides ample opportunity for backlist titles to find new ground. According to Roman, "What's old often becomes new again, as backlist makes up 75 percent of our sales." A Short Guide to a Happy Life  by Anna Quindlen—a commencement speech turned into a book—has sold well over 100,000 copies in its lifetime.
The cooking category continues to boom for publishers around the holidays and year-round. Special Markets manages relationships with key retailers such as Williams-Sonoma, Sur La Table, and hundreds of specialty cooking customers, as well as QVC.  An author appearance at a retailer or television sale can result in anywhere from hundreds to thousands of cookbook sales. The Premium Sales group within Special Markets also works with cookware companies to distribute cookbooks.  A great example is Essentials of Classic Italian Cooking by Marcella Hazan, which has sold upward of 20,000 copies over each of the past three years in an All Clad promotion at Bloomingdale's that bundles the book with a lasagna pan.
New Book Concepts
Sometimes a particular Special Markets opportunity can also spark the idea for a publication.  For instance, a meeting with Anthropologie inspired the development of Storied Sips by Erica Duecy, an unusual cocktail book with back stories of iconic drinks and fun illustrations by an award-winning illustrator.  That title was not only a success at Anthropologie, but also received support from outlets such as One Kings Lane and TJ Maxx.
Milena Schmidt is part of the Random House Digital Publishing Group.