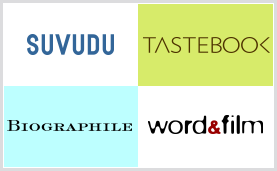 Penguin Random House's genre-specific websites now reach more readers than ever through creative content and syndication strategies. These sites include Biographile, aimed at readers of biography and memoir; Suvudu, dedicated to science fiction and fantasy; Word & Film, which covers the intersection of film, television, and books; TasteBook, a community for foodies; and Everyday eBook, for digital readers.
These sites reach and engage more readers than ever before through approaches that include the creation of blogger communities, live Q&As with authors and editors, themed series of original and exclusive content from authors, breaking news, and syndication partnerships with other websites to spread the stories we write about our authors and books further.
Here are some examples of recent content and syndication strategies on Penguin Random House reader community sites. (Contact your marketer or publicist if you would like to contribute to these sites.)
Biographile recently launched That Summer, a series of original essays about life-changing summers from more than fifty renowned authors across the industry. The site is expanding syndication for the series through a writing contest co-sponsored by Paste magazine, in which readers can share accounts of their special summers.
Suvudu has started a monthly live Q&A series on Suvudu Universe, its blogger community. Each month fans have the opportunity to ask questions of editors, authors, and notable names in science fiction and fantasy. A recent Q&A featured Diana Gabaldon's editor, Jennifer Hershey.
Word & Film is running an ongoing series that shares authors' impressions about and experiences with the adaptation process. Contributors thus far include James Dashner, author of The Maze Runner; Jason Mott, author of The Returned; and Lauren Kate, author of the Fallen series.
TasteBook Blog introduces readers and cooks to cookbooks and food memoirs by posting recipes to its blog community and including the context for the recipes. TasteBook also celebrates key moments for cooks throughout the year, including seasonal cooking and holidays, as well as posting about certain styles of cooking for those with dietary restrictions.

Here are some tips to help you develop your site's content and spread your messages further:
1. Be a guest or host a guest: Collaborate with fellow authors and bloggers to contribute guest posts on their sites. Reciprocate by inviting them to guest post on your blog—and both of you will likely reach new readers. The social network Blog Synergy can help to connect bloggers looking to guest post for other blogs and receive guest posts for their own blogs.
2. Join a blogger community: There's a blogger community and network for nearly every interest out there, looking for engaging content to share with readers. Tap into these networks to have your blog listed in a directory and reach a new audience. There's our very own Suvudu Universe for science fiction aficionados, BlogHer for women's lifestyle writers, and the Outdoor Blogger Network for nature writers, just to name a few.
3. Revamp, reuse, and recycle: Expand your reach by sharing your content across a variety of platforms and formats. If you're excited about a particular blog post you've written, add a new twist to it, such as a slide show, audio component, or video. This will allow you to extend beyond your blog's reach and share the post on platforms such as Slide Share or You Tube, or as a podcast. Note, though, that reposted content should be reformatted and recontextualized for each new platform.
4. Think topical: Timely content can be a powerful way to help readers to find you. As you create content, take into account seasonal and topical trends to weave into your posts. This can help your site gain traffic from online searches for popular keywords.