Last month Penguin Random House launched Subway Reads, a special eight-week joint promotion in partnership with the Metropolitan Transportation Authority (MTA) and Transit Wireless, providing subway commuters with access to five free Penguin Random House e-shorts, as well as extensive samples from more than 175 of our full-length books, to enjoy underground.  Announced on August 28 by New York's governor, Andrew M. Cuomo, the promotion celebrates the installation of free wireless connectivity in more than 175 underground stations throughout New York City.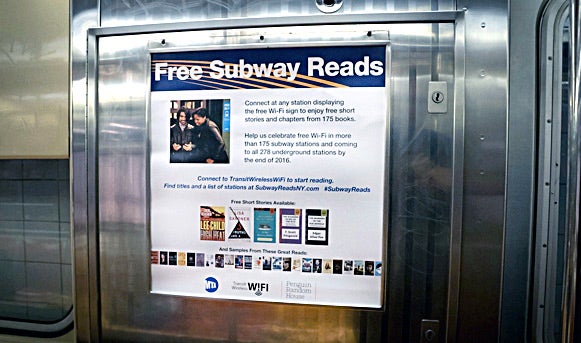 Penguin Random House's imprint publishers selected the Subway Reads titles with an emphasis on stories about New York, set in New York, or created by a broad variety of New York-born or -based fiction and nonfiction authors.
Penguin Random House CEO Markus Dohle commented, "For millions of New Yorkers, having a few minutes to get lost in a great book is one of the true pleasures of riding the subway. This fun promotion provides commuters with a new twist on that classic—and classically New York—pastime, with great short fiction, and the chance to access extensive samples of some of the very best, and most entertaining, books in the world."
In order to optimize the reading experience for commuters, Penguin Random House created a special feature called "read time," which enables customers to sort the short stories and samples by the amount of time it would take the average reader to complete them. A commuter who expects to spend half an hour on the train could, for example, click "30 minutes" on the Penguin Random House page and be given a list of stories or samples that would take that long to read.
If your writing is featured in the Subway Reads promotion, let your readers know. Tweet about it using #subwayreads so your New York City followers can discover your titles on their subway commutes.
To explore Subway Reads and all our featured titles, visit www.subwayreadsny.com.
David Zimmer is the Manager of Corporate Communications for Penguin Random House.