A survey released last month by the Audio Publishers Association (APA) shows that the audiobook category grew disproportionately, in both titles published and unit sales, compared to the overall book industry in 2014. The APA's annual sales survey revealed that sales in the audiobook category totaled more than $1.47 billion in 2014, up 13.5 percent from 2013, and the category also saw a significant increase in the number of titles published. The survey attributed that growth to the growing popularity of digital downloads and increased awareness of the audiobook format.
We caught up with Amanda D'Acierno, Senior Vice President and Publisher, Penguin Random House Audio, to learn more about how the audiobook market is changing.
How has growth in the audiobook market impacted Penguin Random House Audio?
The significant growth we've seen has made it a busy time for the Penguin Random House Audio team. For 2015, we are on track to record seven hundred titles—a number that increases by roughly 10 percent each year. Last year we had to build more studios in L.A. to keep up with demand. We now have twelve studios that are booked solid every week, and plan to expand our New York studios to create even more recording capacity.
How much of the growth in audiobooks do you credit to digital downloads?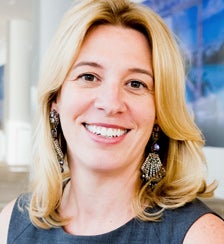 While digital downloads have contributed hugely to overall growth, CDs still comprise nearly a quarter of overall sales. Many listeners don't have the digital technology in their cars to plug in their devices or might not be comfortable downloading. Audiobook CDs continue to be some of the most-circulated items in libraries and we will continue to support their collections. And we are very mindful of the fact that our success is ultimately driven by our incredible authors, books, and narrators.
Has the growth of smartphones impacted the audio market?
The first boom in audiobooks coincided with the invention of the Sony Walkman, which made audiobooks portable for the first time. The introduction of Apple's iPod spurred further expansion—many new listeners were attracted to the format by the fact that they could easily download and carry around their digital media. Now, smartphones have taken that growth a step further by making audiobooks accessible on devices people constantly have with them.
What have been the best-performing genres in recent years?
Bestselling audiobooks very closely reflect the hardcover bestseller list, but business, history, sci-fi/fantasy, and humor are particularly popular on audio. Titles written for children and teens are a growing sector—audiobooks tied to movies, like The Book Thief and The Giver, have done well in the last year.
Who is the typical audiobook consumer? Has this changed in recent years?
The typical listener used to be a commuter or road tripper, but many more listeners are now using audiobooks to multitask throughout their day. And audio listeners are also avid readers in print—listening is just a way to fit more reading into their lives.
The APA's recent consumer behavior survey showed that although listening while traveling is still most popular, 61 percent of listeners use audiobooks when relaxing at home; 29 percent of listeners use audiobooks while walking, running, or working out; and 27 percent listen while they craft, garden, or cook. Many younger listeners have enthusiastically adopted the format in recent years; 49 percent of frequent listeners are ages eighteen to thirty-four.
How do you reach existing and new listeners?
We work with authors to incorporate audio editions into overall book campaigns, promoting audio excerpts via their websites and social channels, and we attend fan events like Star Wars Celebration and Comic Con International to spread the word about our audiobooks. We also have a dedicated school and library marketing team.
This is the third year of our Try Audiobooks campaign, which encourages people to do exactly that via free downloads and listening recommendations for different types of readers.
We also recently created the Volumes app, designed to help listeners discover and sample new audiobooks. We will soon be able to use the app to offer digital review copies to sales reps and media.
How do you choose who should narrate an audiobook?
Our producers work with the author on each book to find the perfect voice for the recording. For some genres, like memoirs or business titles, it's very common for authors to narrate themselves, whereas for genres like fiction or history, it's more typical for the book to be read by a professional audiobook narrator. Casting has a significant influence on many listeners—many of the actors that we work with regularly have their own fan followings.
What does your publishing catalog look like right now, and what can audio fans expect in the fall?

Our studios have been star-studded this year: Mindy Kaling, Chelsea Clinton, Dustin Hoffman, Toni Morrison, Elvis Costello, Aziz Ansari, Jason Segel, and Wil Wheaton have all recorded audiobooks with us. This May, we released the Louis L'Amour story The Diamond of Jeru on audio for the first time, as a full-cast dramatization adapted by Louis's son, Beau L'Amour. This fall, we're excited to be publishing Ruth Reichl's My Kitchen Year, Elizabeth Gilbert's Big Magic, and Colum McCann's Thirteen Ways of Looking, all narrated by their authors.