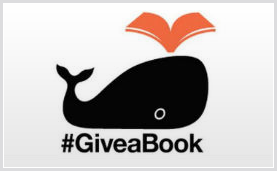 Year after year, books are a favorite gift choice for shoppers during the holiday season. What more thoughtful way to show someone you care than with a book? This year, you can promote the gift of books and reading during the giving season, on- and offline. Keep reading to learn how you can join Penguin Random House to give books and give back.
#GiveaBook with a Click of the Mouse
The #GiveaBook social media campaign promotes books and reading culture during the holiday gift-giving season. Authors and readers across the country are using the hashtag to tag stories about what books and reading mean to them, and why books are their preferred gift this giving season.
Listen to Ken Follett talk about giving his grandchildren the magic of books (it's a sneak peek!):
In addition to promoting books and reading, the #GiveaBook campaign lets you give back with a click of your mouse. For the first 25,000 uses of the hashtag on Facebook and Twitter before December 25, Penguin Random House will donate a book to Save the Children to help a U.S. child in need.
How to get involved:
Get creative: Make your own #GiveaBook challenge video and post it to Facebook or Twitter, using the hashtag. Download the #GiveaBook Video Challenge Made Easy tip sheet to get started.
You can also use #GiveaBook to tag text, images, and videos that illustrate why books are the better gift. Tweet and post to join authors like Harlan Coben and Deborah Harkness, and watch their videos below for inspiration.
Follow #Giveabook on Twitter (@giveabooknow) and visit its Facebook page to learn more and stay up to date.
Make #TimetoRead on National Readathon Day
The celebration of reading continues into the New Year, with National Readathon Day on January 24, 2015. Penguin Random House and the National Book Foundation, in collaboration with Mashable and GoodReads, invite readers to participate in A Moment of Reading from noon–4 p.m. to raise money to support literacy efforts in America. All funds raised will benefit the National Book Foundation.
How to get involved:
Pledge to read on National Readathon day, then join in on January 24. Read by yourself, or invite friends to a reading party near you. Be sure to share your photos and videos on social media, and use the hashtag #TimetoRead to inspire others to join.
Visit global.penguinrandomhouse.com/readathon for full details, and learn how to set up a fundraising page, organize a reading party, and find fellow readers near you.
Express your passion for books with #GiveaBook, and make #timetoread on National Readathon day to promote books and give back. We look forward to seeing all of you on social media.  
Emily Condlin works in the Legal Department and on cross-departmental corporate projects at Penguin Random House.