In January, we hosted a webinar on Instagram Stories with Natasha Minoso from our consumer engagement team. She offered tips and best practices on how to make the most of this new addition to Instagram.
What's an Instagram story?
In short, an Instagram story is a feed you can upload to, which lasts twenty-four hours on your Instagram profile page. You can include photos, videos, and boomerangs (mini videos that loop back and forth), as well as use the Live feature to talk to your Instagram followers in real time.
Posting to your story is an easy way to give readers a glimpse into your life. Unlike Instagram posts, which should be high quality and serve a purpose, your story can be quick, simple, and spontaneous.
How should I interact with my readers using Instagram Stories?
Try to upload a photo to your Instagram story at least once a day. If you're active on social media, readers will be more likely to engage with you. Readers often want to know about the person behind their favorite books, and Instagram Stories allow you to show some personality while still maintaining your name as your brand.
Some ideas for what to post:
Sneak peeks of your work in progress
Videos of your workspace
Boomerangs of you, your events, or even your pet
Live videos where you answer reader questions
Where can I find Instagram Stories?
If you've been on Instagram lately, you might have noticed the scrolling header on your homepage. This area is reserved for Instagram Stories. To view a story, tap on the image of the user you would like to view, and Instagram will cycle through that user's stories; you can swipe to see the stories of all of the users you are following. To refresh the stories, pull the screen down for a second before releasing it.
If you've recently posted a story, your icon will have an orange ring around it to indicate new content was added. Which users can see your stories depends on the privacy settings of your account. (For more privacy information, check out Instagram's Help Center.)
How do I post a story?
To add content to your story, swipe right on your home screen. You'll be taken to a new camera screen, shown above, with all the normal photography features of Instagram.
To take a photo: click on the shutter button on the bottom of the screen.
To record a video: hold the shutter button down to record and release when finished recording (limited to ten-second videos).
To record a boomerang: click on the text that says Boomerang on the bottom of the screen and hold down the shutter button to create a boomerang.
To go live: click on the text that says Live which will take you to a screen that says "Start Live Video." Instagram will notify followers that you've started a live video.
To add a picture to your story, simply click the "+" at the bottom of the screen. To add a photo you've recently taken, you can swipe up on the camera screen to access your phone's camera roll. But don't wait too long—you can only post camera roll photos from the past twenty-four  hours.
How do I know who's viewed my story?
On the home screen, click your icon on the top left of the screen to view your recently posted stories. While you're viewing your story, you can see in the bottom left corner how many users have seen it. If you swipe up, you can see the usernames of everyone who has seen your post, as well as download, delete, or post the image to your main Instagram feed.
What's the difference between Instagram Stories and Snapchat?
In a recent Author News story, we gave readers an overview of and discussed tips and best practices for Snapchat. Like an Instagram story, a Snap story lasts for twenty-four hours, and users connected with you can watch your story as many times as they would like during that time.
Snapchat and Instagram have different photo features—Snapchat has its augmented-reality face images, Instagram has a smoother writing style and the ability to tag other users in your stories—but the experience is similar.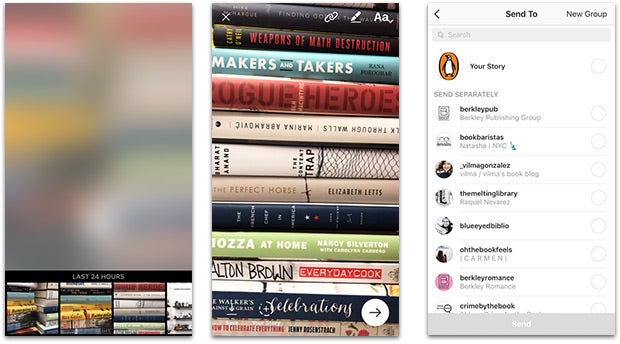 If you're debating between the two platforms, consider where your audience is. If you already have an Instagram, chances are you've already built an audience with whom you can share Stories. And if you still can't decide, or if you have questions about either platform, contact your marketing team.
Posting Instagram Stories is an easy way to share a more casual part of your life with your readers. Have fun with it!
Phil Stamper-Halpin is Manager, Publishing Development & Author Platforms for Penguin Random House.
Natasha Minoso is Coordinator, Consumer Engagement for Penguin Random House.