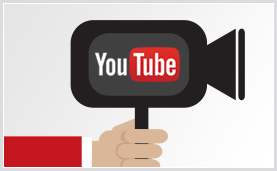 Watching videos online has become a major national pastime. YouTube is the third-most-visited site on the web (after Google and Facebook). 78 percent of all adult Internet users report watching online videos; 31 percent have also uploaded them. Many authors have used video to great effect. In this article, we'll give you some simple ideas for videos you could make, and teach you how to upload content you may not realize you already have.
Online videos help readers discover more about your books and learn about the personality behind the pages.
Videos are 41 percent more likely to be clicked on in search results than text alone.
Popular videos are often entertaining and educational. Even simple "how-to" videos can be very popular and easy to create.
YouTube is by far the biggest online video-watching site. Google owns YouTube, and YouTube videos tend to appear at the top of Google search results.
We strongly suggest focusing on YouTube, though these tips are applicable to any video hosting service if you do post videos elsewhere.
Before you make an original video, it's worth thinking about if you already have video content. You just might! Examples may include a media interview, a bookstore appearance, a reading, or a conference talk. Event organizers are usually happy to share any video that has been created. Once you locate some videos, you can create a YouTube account and upload them. Creating a YouTube account is easy; this video shows you how. You'll see in the video that you should upload a profile picture and link the account to your Facebook, Twitter, and other social media accounts. Once your account is set up, load your videos using the YouTube editor.
Original Content
A good rule of thumb is that videos should be either educational or entertaining (or both!). Here are some more tips:
The first fifteen seconds need to hook the audience in. People have short attention spans, so you want to grab them right away!
Each video should be two to three minutes long, at most.
People are used to videos looking homemade, so don't let that hold you back.
Don't be overly promotional about your book.
Ideally, develop series content that keeps users coming back.
Inspiration
We've put together some examples of great videos that didn't require large budgets.
Nonfiction Authors
Nonfiction authors often find making video straightforward, as they have specific points of view to convey:
Christopher McDougall's video about Born to Run describes why he wrote his book in a clear and educational way.
Ultraman athlete and author Rich Roll recorded a trip to the grocery store to create a unique visual guide to his plant-powered diet.
Fiction Authors
For fiction authors, a good place to start could be a simple direct-to-camera piece describing why you wrote your book, like this video from Lauren Kate about the inspiration for her novel Teardrop. This video from Chris Bohjalian takes the viewer on location to where Chris imagined Secrets of Eden taking place.
If you already have fans who are excited about a forthcoming book, you could read an excerpt from it, as in this video from Rachel Hartman. Or you could use video to answer a frequently asked question; in this video, James Dashner talks about why he kills off key characters in his books. If you share an interest with fans, that can also be a good jumping-off point; here Sophie Kinsella, author of the Shopaholic series, takes us shopping in New York.
Humor is always appealing, and is powerful in terms of getting content shared.  This video from Machine Man author Max Barry gently pokes fun at the whole idea of video book trailers. Gary Shteyngart also produced a highly entertaining video for Super Sad True Love Story (although he did have some impressive connections to draw on!).
Getting Started
You'll want a basic digital camera (a webcam or digital camera will work; we don't recommend using a Flip Cam), and a tripod may be very helpful depending on the type of video.
You will need a light source: lighting gear, a window with great natural light, or even a bright desk lamp.
The light should be placed in front of you and to your side. Do not shoot directly in front of a strong light source (such as a window).
Sound is very important, so make sure to have a microphone (they are inexpensive, and many digital cameras even come with one). Clip or attach the microphone to your lapel, and test it to make sure it's picking up sound clearly.
Editing software such as iMovie (Mac) or Microsoft Movie Maker (PC) is important for putting together the final product.
Other Tips
Wear solid colors, and refrain from stripes and patterns—they don't look good on camera.
Simple backgrounds are best. Make sure to choose a quiet location.
If you use auto-focus on your camera, make sure nothing in the background is moving.
Do a couple of test runs to make sure everything is working. Allow for second takes, too!
Film for five seconds before and after you speak, as this will make editing and transitions easier.
Sharing Content
In order for people to find your video, you will need to:
Give the video a nice, simple title.
Add a clear description of what the video is about and who is in it.
Tag the video with keywords, such as your name and book title, that will help people find it through searches on Google or YouTube.
Include links to your website and other social media.

Before you post your video, talk to your editor or marketing contact (if you have one) to discuss how we can help promote it.
How to Leverage Your YouTube Videos:
Use your other social platforms (Facebook, Twitter, blog) to link to your videos when relevant.
Use your personal YouTube account to "favorite" any videos of you posted elsewhere. You can also create playlists with content that represents your personality or books.
Check out some of Penguin Random House's YouTube channels for more ideas:
Random House Children's Division
Ben Steinberg is part of the Digital Channel Development team.