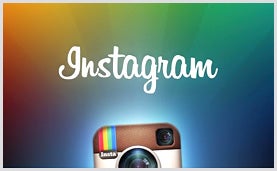 With over 100 million registered users, this social network's star is clearly rising. Instagram can help boost your visibility by allowing fans to go behind the scenes of an author's life.
What Is Instagram?
Instagram is a free photo-sharing platform that helps users upload pictures; edit them with filters, soft focuses, or light-enhancing options; caption them; and share them on any major social network like Twitter and Facebook, as well as within Instagram itself.
Though it launched in October 2010, Instagram catapulted to fame in 2012 when it was bought by Facebook for an impressive $1 billion. Instagram remains an app independent from Facebook, but its images are more seamlessly integrated into Facebook sharing, and Instagram users are encouraged to select from their Facebook friends when searching for new people to follow.
Instagram recently launched web profiles, which allow users to view photo streams in a browser as well as link to their profiles, though you still need the app (available for iOS and Android) to upload photos.
Who Uses Instagram?
Instagram's demographics skew overwhelmingly younger. It's the top photography site among teens 12 to 17, and more than 50 percent of overall users are under 35. Like other social networks, Instagram counts celebrities, brands, and elected officials among its users, like Mindy Kaling, Nike, and even our president.
Posting Content to Instagram
The appeal of Instagram is that it's image-based, which offers a different way to communicate with readers than other social networks that are text or comment-based. The filters the tool provides make every photo look special, whether it's a peek into a writer's workspace (Deborah Heiligman shared hers), documenting the arrival of the first box of finished copies of a new book, or a snapshot from an event. The powerful visuals give readers a "backstage pass" to the publishing process, and forge a personal connection with followers.
Instagram is one of the easiest platforms to add to your social media routine—it's quick, it's intuitive to learn, and it integrates easily into other profiles like Twitter and Facebook, so you can share your photos across all your social media accounts.
Something to keep in mind: like most other social media photo-sharing tools, images produced with Instagram are optimized for viewing on a mobile device or on the web, and may not translate well to other applications (printing, for example).
Check Out These Authors & Imprints
Wondering how to get started? Here are a few authors that are doing a great job!
Jarrett Krosoczka: Posts teaser images from his upcoming books, but also photos from hangout sessions with other authors and (almost daily) adorable snapshots of his family pug.
Sarah Dessen: Heavily promotes her author brand with quotes from her books, international covers, and media appearances. There are also some pretty cute dog pictures here, too. (Pets are universally beloved on Instagram.)
Lauren Morrill: Gives great behind-the-scenes peeks at life as a writer, including notebook scribbles, midnight snacks, and her to-be-read pile. An added bonus: a look at her alter ego in roller derby competitions!
Tyler Florence: Shares delicious dishes he's created for his latest cookbook and enjoyed at restaurants he's visited, as well as photos from his author events and media appearances. You'll be hungry just looking through these photos! (Also notice how all the images from his latest book are hashtagged with the book's title.)
Erin Morgenstern: Shows the many international covers of The Night Circus, what she's reading, a few of her favorite things, and her writing companion, her (very fluffy) cat.
Marcus Samuelsson: Documents his latest creations, behind-the-scenes excitement at his author events and book launch party, and favorite vintage record finds.
Random House is also on Instagram! Check out how we're using it to get readers interacting with a few of our imprints:
Fodor's Travel: Editors post photos from the road while traveling the globe researching for Fodor's travel guides, from learning to make wine in California to exploring night markets in Morocco and scaling the ruins at Machu Picchu, inspiring followers to get going on their next adventure!
Random House Publishing Group: This division's stream is very much aligned with the content from their other social platforms. RHPG loves to share employee style, event prep, and snippets of work in action.
Random House Kids: The Random House Children's Books account focuses primarily on authors, whether they appear in the office, at conferences, or out on tour. We try to capture any moments that have to do with kids and literacy, which may not be directly about our books at all: a recent favorite is illustrator Sophie Blackall's art for the NYC subway.
Want to know more? Here's some further reading about Instagram:
Instagram Introduces Web Profiles, Mashable
Hands on With Instagram's New Features, Mashable
The Essential Guide to Using Instagram Filters Like a Pro, The Next Web
8 Tips for Marketing Your Business on Instagram, Social Media Today
7 Steps for Getting More Instagram Followers, SocialFresh
Lauren Donovan, Publicity & Social Media, Random House Children's Books