In the age of social media, our communication platforms are constantly in flux. In this article, we highlight recent updates to the most popular social media platforms, and how these changes will be relevant to you. Incorporating these updates into your social media routine might really help to extend your brand and increase awareness about your books!
We'll focus on four central social platforms that authors tend to use: Twitter, Instagram, Goodreads, and Facebook.
Twitter
Twitter's newest feature is the expansion to 280-character tweets in all languages except Japanese, Chinese, and Korean (languages that can already provide double the information in one character compared to English, Spanish, French, etc.). The 140-character length has been a long-contested feature of the platform, and doubling the length of tweets has given Twitter users more space to share bite-sized information.
But remember that you don't have to use the extra characters. Twitter still runs on short, easily consumable information. Keep this in mind and adjust to your audience—if you find you get less engagement on longer tweets, opt to continue using threaded shorter tweets.
Alongside this change, Twitter users have seen an update to the interface. Rather than a character countdown from the beginning, now a circle fills as you approach the character limit. Once you have twenty or fewer characters remaining, a countdown appears. Additionally, Twitter has streamlined the process of writing long strings of tweets. Now, you can compose full threads and post all the tweets in one thread at the same time.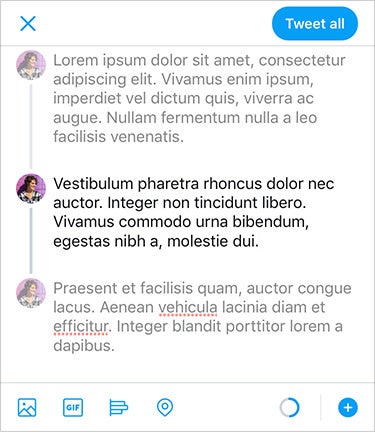 Instagram
Instagram recently released two new features for Instagram Stories: Archive and Highlights. With Archive, your Stories (small video clips or photos that disappear twenty-four hours after posting) will be automatically archived—for your eyes only—once they expire. On your profile, there is an Archive button that will show you your post archive and allow you to switch to your Stories archive.
Highlights gives users the option to save Stories to their profile pages indefinitely (although you can only do so with Stories that have been posted since the latest update in December 2017). Up to 100 photos or videos can be added to Instagram Stories Highlights. But there's no limit to how many Instagram Stories you can create—if you add more than 100 clips to your current Story, the earliest ones will be removed and added to your Archive. So if you'd like to capture all the photos from an author event and keep them on your Instagram page after the event ends, rest assured that you can do so with Highlights.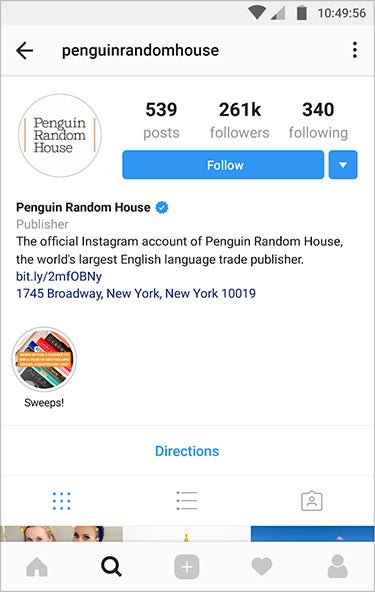 Instagram also announced that users will now have the ability to follow hashtags. Instead of regularly searching for a hashtag to find new content of interest, users can have the content delivered to them. Following a hashtag creates a feed where this content will appear. For authors, this change will increase the likelihood that your posts and mentions of you and your book will show up in more people's feeds, and will allow for easy monitoring of your own brand hashtags.
Finally, the poll feature in Instagram Stories is a handy tool for authors wanting to get a sense of their fans' feelings on certain topics. To use the poll feature, go to the Stories section of the app and tap the sticker icon with the happy face (top left corner). Then select the Poll sticker option, and create your poll!
Goodreads
Goodreads recently enhanced their giveaway program to deliver additional marketing benefits. Everyone who enters a giveaway automatically adds the book to their Want-to-Read list. Additionally, the author's followers and anyone who has already added the book to a Want-to-Read list get a notification letting them know there's a giveaway starting. Also, about eight weeks after a giveaway ends, winners receive an email from Goodreads reminding them to rate and review the book.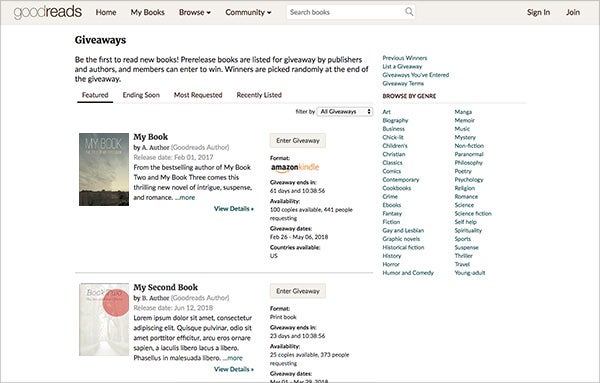 With the premium giveaway package, Goodreads offers a special "Featured" placement on the highly trafficked Giveaways homepage, which provides the giveaway with significantly more visibility and more entrants. Find out more about Goodreads Giveaways here, and check out some best practices here.
Another important update is that Kindle Notes & Highlights are now available on Goodreads. This feature allows authors to add notes and highlights to their own books, as well as any other book they care about. It makes for a vital space where authors can be an active part of the reading experience, and where readers want to see more content from authors. Our contact at Goodreads tells us that 79 percent of readers are interested in authors' annotations.
Additionally, Goodreads recently launched the ability to easily select and share all the notes in a book at one time. Authors can decide which notes to share, can add spoiler alerts, and can access their notes across all books they have annotated in one place for easy editing. The right note brings immeasurable value to fans and a unique level of engagement for authors. Find out more about Kindle Notes & Highlights here.
Facebook
In January, Facebook made the decision to change their News Feed algorithm to prioritize news from friends and family over content from businesses, brands, and media. For authors with Facebook pages, this could mean further decline in organic reach and traffic, the extent of which will depend on the type of content you produce and how people interact with it.
Influencers, Pages with Facebook Groups, and authors whose video strategy incorporates live videos will benefit from the algorithm change, while those that employ "engagement bait" (a tactic used in some Facebook posts that provokes people to like, share, or comment on the post for a boost in traffic) will be penalized. This can be a positive development, as many authors do successfully use Facebook to engage with fans and promote their content in a meaningful way.
While users will see less news media content on Facebook, it will not disappear entirely. The new algorithm will reduce the amount of news stories people see in their feed to 4 percent down from 5 percent, but the sites that do surface will be deemed "broadly trusted." Based on ongoing quality surveys, news that is considered trustworthy, informative, and local by Facebook users will be prioritized.
Neda Dallal is the Coordinator for Publishing Development & Author Platforms at Penguin Random House.