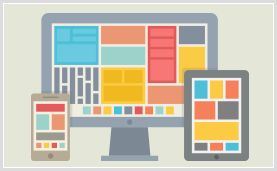 Even in this social media age, having a good author website is still important. Websites give authors credibility and act as their home on the web, directing information-seekers to where they can buy the book, connect with the author on social media, or book the author for a speaking engagement.
1. Keep It Clean
Don't clutter up your home page or other pages with unnecessary information and graphics. Think of "white space" as a design element in your website and make sure your website is visually appealing.
TIP: When working with web designers and developers, it's helpful to give them examples of sites you like, and why.
2. Multiple Purchase Links
While it's tempting to keep things simple with just a few retailer links on your site, keep in mind that retailers are likely to check out your website before your book goes on sale. Link to all major retailers plus any specialty retailers you know will carry your book, in order to encourage them to carry more inventory of your title.
TIP: Your Penguin Random House marketer can advise you on which retailers to include.
3. Responsive Design
We are currently finding that around a third of all visitors to author websites are using mobile devices such as phones and tablets. If you are commissioning a new website, consider requesting one that is "responsive." Responsive websites detect the size of the visitor's device and adjust the layout and navigation so it is easy to read.
TIP: If you think you may already have a responsive site, try shrinking the size of your browser window when visiting the site on your computer. If your site layout and navigation changes as you shrink it, you already have a responsive website.
4. Manage Your Own Content
When commissioning a site, ask for it to be based on a Content Management System (CMS) that will allow you to make content changes to the site yourself (for example, adding new web pages, or managing a blog on your website). WordPress.org is an extremely popular CMS choice, and we've also had authors successfully using SquareSpace.
5. Be Social
Make sure that your website has "social share buttons" that go with each post, book title, or page on your website. This allows readers and others a quick way to share your book, blog post, or other information on sites like Twitter, Facebook, and Pinterest.
PRO TIP: Adding share buttons to the top and bottom of your blog posts will help your post get shared.
6. Respond to Comments
If you have a website where readers can leave comments on a blog post or elsewhere, make sure you or someone on your team is responding to those comments (and deleting spam). By replying to comments you not only encourage more interaction, you're also adding more content to your website (which in turn helps to improve your ranking with search engines).
TIP: If it's difficult to find time to respond to comments, try setting aside an hour each week, or find someone you trust to reply to comments using your name and voice.
7. Post Regularly
Make sure you're adding fresh content to your website, especially if you are blogging. Consistency is key, so think about how much time you or your team can dedicate to your blog and then stick to it.
TIP: It may be easier to write a series of blog posts at one time and then use the scheduling options in your Content Management System to publish them automatically.
8. Bow to Your Audience
When you set up your website, consider the audience that will be visiting. Who are they?
What do they want or need? How can you give them what they're looking for?
Author websites can see a varied audience, including readers, retailers, media, and librarians. Write down on a piece of paper which one of these is the most important, second, third, etc.  Does your site give your primary audience what they need or want? If not, it may be time to revamp your website.
TIP: Free survey tools like Survey Monkey can help you find out who is coming to your site and what they would like to see. Your marketer can help advise you on this.
9. Collect Email Addresses
Make sure you have a newsletter sign-up form on your website. Even if you don't have an active newsletter, it's still good to have a sign-up form so you can be collecting email addresses. At some point you may want to start a newsletter, and you'll already have a list to send to!
PRO TIP: There are many ways to collect email newsletter sign ups. MailChimp is a simple but powerful emailing service provider. JotForm is also a simple information-collecting form you can use for this purpose.
10. Trust Your Title Marketers
When in doubt, talk to your publisher's marketing team. The marketers at Penguin Random House have helped dozens of authors set up websites and will have great advice and suggestions.
Chris Sigfrids is the Senior Manager, Community Operations, for the Crown Publishing Group, and the Senior Online Marketing Manager for WaterBrook Multnomah Publishers.