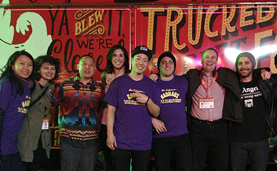 This spring marks Random House's third year participating in South by Southwest (SXSW), the country's largest digital and interactive conference, which brings together influencers across all industries for nine high-spirited days of creative exchange. SXSW is the perfect venue for Random House to showcase the work of authors and company developments, while learning new and innovative ways to improve capabilities across divisions. The event also provides a unique opportunity to foster the creative and professional growth of our employees.
Random House authors participating in SXSW included Eddie Huang, author of the best-selling memoir Fresh Off the Boat.  This young food star's groundbreaking use of social media has garnered him a place on Zagat's 30 Under 30 list and made him a must-follow on Twitter.  At SXSW, Eddie gained hundreds of new fans at his talk, "The Social Media Chef."  While brainstorming creative ways to promote Huang's event, the Random House marketing team identified an opportunity to cross-promote Tastebook,the company's newest vertical site. The result was a fun pop-up event with a strong social media component.
"We organized a late-night food truck promotion where we gave away fried chicken baos to promote Eddie Huang's panel and Tastebook, our new custom cookbook site," said Christine Hung, senior manager, online marketing. "We teased the giveaway across many Random House Twitter handles and also advertised using Promoted Tweets campaigns. Huang revealed the location of the truck on Twitter, and the turnout was great.  We gave away four hundred baos—one fan even waited for two hours to meet the author at the end of the event!"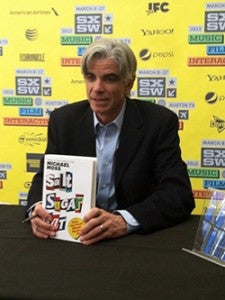 Another well-received event at SXSW featured Michael Moss, Pulitzer Prize–winning investigative reporter and author of Salt Sugar Fat. Moss gave the engaging talk "Can Food Be as Addictive as a Drug?" to a captivated audience. 
The Random House team viewed SXSW as an opportunity to bring like-minded authors together for joint events.  Donovan Campbell, management and technology consultant and the bestselling author of Joker One: A Marine Platoon's Story of Courage, Leadership, and Brotherhood and the forthcoming The Leader's Code, joined Chris Guillebeau, entrepreneur, blogger, and author of The $100 Start-Up and The Art of Non-Conformity. The duo participated in the panel "Applying the Leader's Code to Silicon Valley: The Link Between Military Training and Entrepreneurship," alongside Brad Hunstable, the co-founder and CEO of Ustream.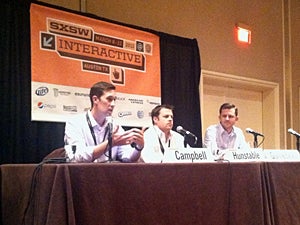 SXSW also gave the Random House team the chance to participate in a wealth of workshops and panels, allowing them to hone their craft and share new ways of thinking with colleagues.
Joe Gallagher, digital marketing manager at Knopf Doubleday, attended panels that included "Do Social Ads Really Work?," led by the chief digital officer of Wendy's, and a panel on creating analog content in a digital world.
"My goal at SXSW was to learn something new every day—it's hard not to find inspiration around every corner," said Gallagher.  "SXSW allowed me to gather ideas and learn new techniques that will assist our online marketing teams, particularly when it comes to creating strategies to promote author brands."
Gallagher focused on learning more about building brand advocates and engaging fans that will do more than simply "like" an author.  According to Gallagher, there are many ways to reach this goal, but the active participation of the author is absolutely essential. Fans want to advocate for something—someone—authentic.  If the author is a regular and reliable presence, it does so much to create excitement online.
Crown's assistant marketing manager Emily Davis attended panels led by social media strategists at Intel and Facebook creative strategists.  In these sessions, she learned that a small, engaged audience is much more influential than a large, dormant audience.  According to Davis, "previously, the focus has been on growing social media platforms as quickly as possible. And while growth is still important, building relationships with fans is even more so.  The key is finding and engaging true advocates."
Christine Hung is a Senior Manager in the Digital Channel Development group; Joe Gallagher is a Digital Marketing Manager at Knopf Doubleday; Emily Davis is an Assistant Marketing Manager with Crown; and Milena Schmidt is part of the Digital Publishing Development team.