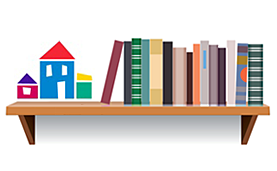 Back-to-school season is the perfect time to set up visits to schools or libraries in your community.  Teachers and librarians can be powerful ambassadors for authors and illustrators.
This is how Tracy Lerner, Random House's senior manager of library marketing, describes the importance of school and public libraries to the world of children's books:
"In the children's book publishing world, we like to think if a book makes it onto a library shelf, that book will live forever. Books chosen by librarians sell steadily over a long period of time, with loved and well-worn copies regularly replaced. The backlist is vital for children's publishing, with an audience that is replaced by completely new readers as older kids mature. Just think of all the young children that learn to read every year. Librarians are a vital influence in selecting the books that will set those children on a course of lifelong reading. 
"School and public libraries are the best places to give a children's book its start; they provide a strong foundation from which the book can begin to grow a wider fan base. Librarians themselves are tremendous advocates for the books they love, and their influence extends well beyond the walls of their individual libraries. 
"Authors can help build their success in libraries by making personal visits. School librarians, teachers, or PTAs often reach out directly to publishers, authors, or illustrators to set up visits. We also encourage authors to reach out to their local schools and libraries about visit opportunities. At Random House Children's Books, we work with an author appearance coordinator, Lisa McClatchy, who liaises between libraries and authors to confirm travel information, honoraria, visit schedules, and other details.
"During library visits, authors can interact with young readers in a variety of ways, depending on their ages. Picture-book authors and illustrators may invite children to draw with them, while an author in a middle school or high school library might engage in Q&A or a creative writing workshop. It's not unusual for an author to visit several groups of children in one day or even participate in a large assembly. Often, there is time for the author to sign books and interact one-on-one with young readers. By engaging young readers in a guided interaction in a school or library, authors build deeply devoted fans among children, teachers, and librarians. It is an investment of personal time that can pay off over many years." 
If you are interested in participating, the easiest thing to do is to visit the Random House Children's Books website, or ask your editor or marketing contact for more information.