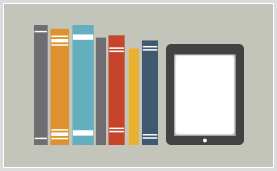 Two years ago, amid myriad speculations in the media, on blogs, and in internet forums about the looming death of the book business, we were happily surprised to find that these speculations were far from the truth. In fact, the data showed a very stable progression of the industry's revenue pool.
The BookStats numbers for 2013 were released over the summer, providing an overview of the U.S. trade book industry (as distinct from textbooks and professional books):

The most important take-away from this report is just how stable the top line of this industry continues to be, even in the midst of the digital transition. So far, the market size of the book business remains favorable in comparison to the music industry, whose net revenue shrank rather dramatically, and rather quickly, in the face of digital conversion.
You may ask, why did 2012 see a significant bump followed by a subsequent decline in 2013? This is a valid question, which has a "two-trilogy" answer: 2012 had both the Fifty Shades of Grey and Hunger Games trilogies—never before had two separate trilogies each sold tens of millions of copies in the same year.
Up Close with eBooks:
Another notable fact is that almost 80 percent of all books are still bought in physical format. The overall digital adoption rate continues to grow, but not at the pace that many industry pundits had predicted earlier.
While the eBook sales growth rate has slowed across the board, we continue to see big differences between categories and genres. These differences are apparent on a high-level category basis: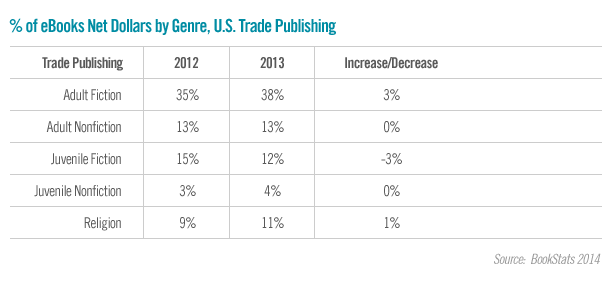 And when we break the numbers down more granularly, the differences become even more apparent. Genres that sell especially well as eBooks—such as romance and thrillers—continued to rise in the single digits, with digital editions generating between 40 and 50 percent of the categories' revenues. More literary novels seem to have found a relatively stable eBook revenue percentage level between 25 and 30 percent.
For adult nonfiction categories, revenues from eBooks are more modest across the board. Interestingly, some narrative nonfiction categories, including biography, political affairs, and psychology, saw a reduction in their share of eBook revenues in 2013, generating about 15 to 20 percent of their sales from digital editions. Other nonfiction categories, especially illustrated books, are still overwhelmingly sold in physical formats, with a digital revenue percentage inching up only into the low single digits to date.
We still don't have a crystal ball—and the digital transformation is far from over. But whatever market gyrations take place in the coming years, it is important—and encouraging—to keep in mind that long-form reading and the related book market are grounded in an incredibly stable base.
Dave Thompson is VP, Director of Sales Analytics at Penguin Random House