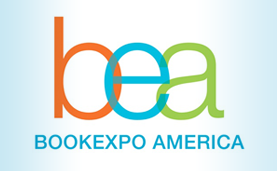 From June 4–7, publishers, booksellers, agents, librarians, and authors come together in New York City for BookExpo America (BEA), the largest gathering of book trade professionals in North America. While other international book conferences like the Frankfurt Book Fair or the London Book Fair serve primarily as global marketplaces for foreign rights, BEA is dedicated first and foremost to bookselling and booksellers.
During the weeklong event, publishers exhibit upcoming publications and present their publishing programs to a series of booksellers and distributors in individual meetings. Our PR teams support individual author events or book signings and distribute promotional materials as well.
Publishing professionals, booksellers, librarians, and other industry players also convene for educational and information sessions. Representatives from all parts of the book industry present insights and case studies at several "mini-conferences" run concurrently with BEA, including the BEA Bloggers Conference, IDPF Digital Book, and the American Booksellers Association's Day of Education.
Check out daily feeds from Publishers Lunch and PW Daily in the Industry News section on the Author Portal over the coming days, to get the highlights and a digest of some of the discussion topics and happenings at BEA.