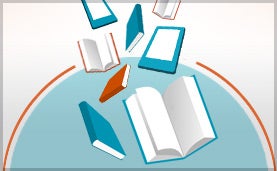 There's a new way for readers to find out about books they'll love—BookScout! Random House's new Facebook app encourages conversation about books on the world's largest social media site and makes it easy to get personalized recommendations.
Random House has developed BookScout, which enables book lovers to discover new authors and share their favorite titles with friends by adding the new app to their Facebook Timeline.
BookScout provides personalized book recommendations (based on Likes from people's Timelines and within the app); recommends popular titles readers are Liking, sharing, and adding to their shelves (published by both Random House and other houses); and showcases industry bestsellers broken out by category.
To give BookScout a try and start sharing your shelf, visit https://apps.facebook.com/bookscout.
The idea for BookScout came from research by the Digital Marketplace Development Group, which, while investigating a tool to help book club members, found that what readers really wanted was a way to easily find out about new books.
Armed with that knowledge, Amanda Close, senior vice president, Digital Marketplace Development, assembled a team to build a recommendation engine for the Facebook platform that would integrate books into the conversations happening there every day. The development process was a group effort, relying on technology expertise from our in-house Information Technology department, marketplace research from Close's team, and advisers and testers from throughout Random House.
The app works via an algorithm that learns from Likes both within the app and from other sources, learning what readers prefer and tailoring suggestions—the more books readers Like, the better the recommendations will be. Titles featured in BookScout include links to major retailers so readers can easily purchase new finds in any format.
Word of mouth is the number one way most readers find out about new books, and BookScout is the perfect place to share favorite titles with friends and family!  Readers can create and organize their own digital bookshelves, share what they're currently reading with their Facebook friends, tag books they'd like to read, and keep track of books they've read. People can also see what their friends are reading, encouraging organic recommendations.
BookScout is the latest in a line of many book discovery tools created by Random House, from verticals like Word & Film, Everyday eBook, Biographile, and Suvudu to partnerships with Politico, Epicurious, and Publishers Lunch.