What proportion of adults still read books? Are ebooks continuing to grow? Are independent bookstores hurting? What is the future of ereading? The last couple of months have seen the release of some illuminating market data and a flurry of informative media articles. We look at what this information may mean for the overall health and direction of our industry.
Ebooks Flatten
Recently released Pew Research Center data shows that 72 percent of Americans have read, or at least partially read, a book in the last twelve months. Although the figures represent a dip from last year, this figure is still in line, statistically speaking, with polls since 2011. So, watch this space. Print still remains the most popular format and ebook growth looks to be flattening: 63 percent of Americans report reading a print book in the past year, whereas 27 percent read an ebook.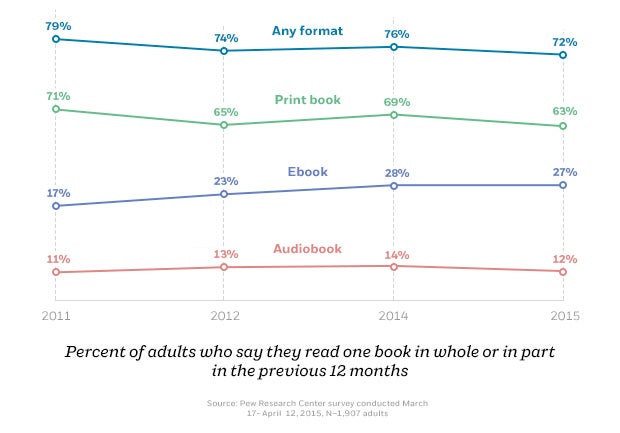 Age Gap
The data reveal what some might consider a surprising generational pattern in book reading. Young adults—those aged eighteen to twenty-nine—are more likely than their elders to have read a book in the past twelve months. In 2014, there were more hugely successful movies based on young adult books than ever before. Divergent, The Maze Runner, The Fault in Our Stars, If I Stay, and The Book Thief all appealed to a younger audience, and may be causing this surge of interest. We'll have to wait for next year to see if this is a passing phase or a longer-term trend.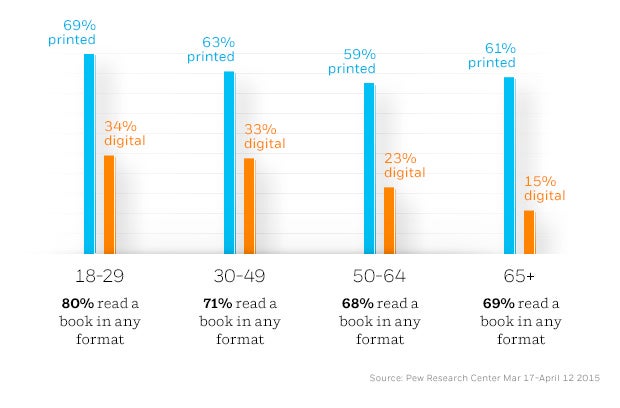 The survey also noted that women are more likely to be the book readers in a household. The average woman reader read fourteen books in the past year, compared with nine books for men.
The World Is Flat
We use the American Association of Publishers' data to take the pulse of the overall book market, and ereading in particular. This October's data revealed that trade publishing revenue (book publishing excluding education) was down slightly: 1.4 percent year-over-year for the first half of 2015. The reduction comes primarily from children's and YA books, which were down 12 percent, in contrast to adult books, which rose 3 percent. As we noted above, children's and YA books had a particularly good year in 2014, with successes including John Green titles, Disney's Frozen books, and the Divergent series, so a decline is not surprising. (For perspective, in the first half of 2014, sales in the children's and YA categories were up 28.1 percent compared to the first half of 2013.)
Total Trade Net Revenue by Category (in millions)* (Source: AAP StatShot)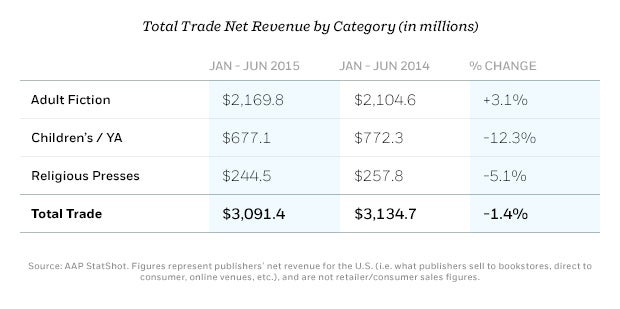 Downloaded audio remained the fastest-growing format, with 31 percent growth in the first half of the year compared to the same period in 2014. Paperbacks also continued their good performance with 12.5 percent growth. Hardcover books were down 11 percent and ebooks were down 10.3 percent year-over-year (although most of the ebook decline was due to the drop in children's and YA titles, and therefore seems unlikely to suggest a significant shift in format preference).
As noted by The New York Times, it is also possible that a growing number of people continue to buy and read ebooks, but not from traditional publishers. The AAP's ebook numbers exclude self-published ebooks, both as standalones and in subscription programs.
Indie Rebounds
Amid a flattish ebook market, independent bookstores are showing signs of resurgence. As reported by various news organizations including Slate, the number of independent bookstores belonging to the American Booksellers Association has increased more than 20 percent since the depths of the recession, from 1,651 in 2009 to 2,094 in 2014.
According to NPR, this revival is fueled, at least in part, by digital natives like twenty-three-year-old Ross Destiche: "Nothing matches the feel and the smell of a book," he says. "There's something special about holding it in your hand and knowing that that's the same story every time, and you can rely on that story to be with you."
Booksmart Phone
In 2014, Pew reported that 50 percent of Americans now have a dedicated handheld device—either a tablet computer like an iPad or Kindle Fire, or an ereader such as a Kindle or Nook—for reading digital content. This is up from 43 percent in September 2013.
While tablets are still the most popular electronic way to read digital books, last month The Wall Street Journal predicted that they may be pushed aside by smartphones in coming years. In the first three months of 2015, 41 percent of ebook buyers read digital books primarily on their tablets, according to the newspaper (citing Nielsen data), and 32 percent read ebooks primarily on their ereaders. However, the publication also reported on a Nielsen survey from this past December that found 54 percent of ebook buyers read on their smartphones at least some of the time. In 2012, that number was just 24 percent.
Fortune cites reasons for the adoption of reading via smartphone: "Convenience, of course, as well as ramped-up technology that makes reading on mobile phones a more pleasant experience. Smartphone screen sizes, too, are getting larger."
Sophie McNeill is part of the Digital Marketing and Channel Development team.