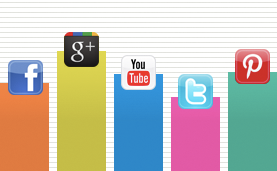 In today's content-hungry world, making use of a few simple, free analytics tools can help you understand which activities are worth your time. These tools can also help hone your marketing skills.
Savvy About Social Media
How do you know which social media activities are the most effective at connecting with your readers and promoting your book?
Facebook
The best way to track activity on your Facebook page is through the Page Insights tool, which is available for all pages with more than thirty fans (it's not available on individual profiles). Here's a basic guide.
One of the most interesting Facebook measures is "People Talking About This," which tracks all the times users have interacted with your page in the last week. Social Media Examiner recommends taking this number and dividing it by your total fans; they suggest that a healthy score is between 1 and 5 percent.
Facebook also has an additional tool, Insights for Domains, which tracks the usage of Facebook buttons installed on your website. This data includes both the number of people sharing content from your website and demographic information on visitors from your site to Facebook.
Twitter
Twitter does not currently have a built-in analytics tool, although its own search functionality can help you track mentions of yourself or your book.
Twitter Counter offers some basic graphs and stats for free, although you'll need to pay to track mentions or retweets. Retweetrank and TweetReach aim to show you which tweets drove the most activity but, again, the functionality available for free is limited. Our marketing teams often find it useful to measure the number of clicks on links they post through the Bit.ly link shortener (you'll need to register for a Bitly account but the service is free).
You can use Topsy to search the web or just Twitter, and it claims to bring back the most influential posts or tweets in its results.
If you are using HootSuite to manage all your social media in one place, you're probably aware that they significantly upgraded their analytics in March. However, you need to HootSuite's Pro package to take advantage of their custom reports.
Pinterest
To measure the impact of your activity on Pinterest, we recommend PinReach and Pinerly. Pinerly provides slightly more data, but you need to post from within the tool to get the best insights.
Tumblr
The best insights on Tumblr will come from installing Google Analytics on your Tumblr page.
Next month, we'll be looking at website analytics, so stay tuned.