You may have noticed a recent upgrade to the Author Portal: a site-wide notification system that keeps our authors up to date when any new information is added to their portals. Continue reading to learn more and to take our annual Author Portal, newsletter, and webinar survey.
Author Portal Notification System
Recently, we added a new feature to the Portal—the Author Portal Notification System—which was requested by authors who wanted to know when a new royalty statement or subright appeared in the portal. We are pleased to announce we have added those notifications, plus much more:
New Royalty Statement – As soon as a new royalty statement is available in the portal, you will receive a notification on the Author Portal dashboard that, when clicked, will take you directly to the royalties page. The new royalty statement will be highlighted on your first visit to this page.
New Subright – Similar to the Royalty Statement notification, clicking this will take you directly to the Subrights page, where the new subright will be highlighted.
New Questionnaire Available – In December 2016, we announced that company-wide author questionnaires are available online through the Author Portal. If you have a new title publishing within eighteen months, the title will appear on your author questionnaire page and you will receive a notification.

As transparency is an important goal of the Author Portal, we have also included two notifications that will alert you whenever your data has been updated by Penguin Random House staff:
Updates to Your Questionnaire – Whenever your publishing team makes an update to any of your author questionnaires (About the Author or About the Book), you will receive a notification. When clicked, this will take you directly to the section that has been updated, and timestamps beneath each question will show you which ones have been edited by your team.
Updates to Your Profile Page – These notifications will appear whenever your address or phone number has been updated by our royalties team. You can also make these changes from your profile page in the Author Portal, but if you have requested our teams to make the change on your behalf, you will receive this notification.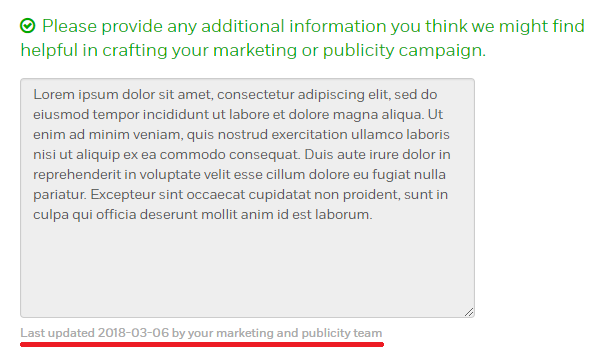 Annual Author Platforms Survey
This exciting upgrade was the direct result of suggestions and feedback given by authors in our previous annual Author Platforms survey. Your feedback helps advise our future content and enhancements, from monthly News for Authors mailings and webinars to the variety of resources on the Penguin Random House Author Portal.
To thank you for your participation in this survey, we will donate ten Penguin Random House books in your name to First Book, a nonprofit social enterprise that provides new books and educational resources to children from low-income families. Please join us in nurturing our next generation of readers and writers.