As part of PRH's ongoing commitment to creativity, literacy, and diversity, we recently celebrated the twenty-fifth annual Penguin Random House Creative Writing Awards. Read on to learn about the ceremony and the talented award recipients.
Penguin Random House celebrated its ongoing commitment to creativity, literacy, and diversity at the twenty-fifth annual Penguin Random House Creative Writing Awards at 1745 Broadway. On Friday, June 15, scholarships totaling $75,000 were awarded, celebrating the powerful voices of thirty New York City public high school seniors for their winning compositions in memoir, poetry, fiction & drama, graphic novel, and spoken-word poetry. Since 1994, more than 1,600 students and their schools have won more than $2.7 million dollars from Penguin Random House (and previously Random House) through this awards competition. In addition, more than 550 student writing workshops have been provided to further inspire young writers.
This year, hundreds of entries were received from a diverse selection of public high schools throughout New York City's five boroughs. The awards ceremony featured a number of gripping dramatic readings, spoken-word poetry performances, and graphic-novel presentations from a group of this year's winners.
During the last sweltering days of August, Penguin Random House extended the program, giving a select group of recipients a deeper dive into writing with the "What's Your Story" Summer Writer's Retreat. Over four consecutive days, thirteen young local writers generated new pieces, prompted by a potent array of exercises. Students were encouraged to bring in works in progress as well as pieces that they might have abandoned along the way.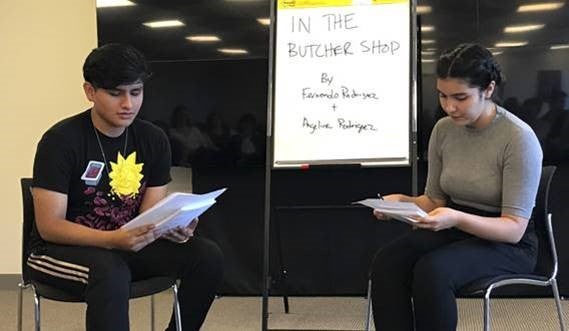 Crown author Nic Stone and Phoebe Yeh, VP & Publisher, Crown Books for Young Readers, also hosted a discussion that provided an insider's look on the creative process and what it means to be a writer. The students shared their writing with both Nic and Phoebe and discussed at length what writing meant to each of them. The talk lasted well beyond the planned hour, with down-to-earth advice on what it truly meant to pursue writing full-time and on how to find a publisher and agent. Nic Stone then graciously autographed a copy of her book Dear Martin for each student. On the spot, she encouraged everyone to stay connected and followed each and every participant personally on Instagram.
Nic Stone said, "My favorite thing about being a Penguin Random House author is getting involved in initiatives that support both educators and young writers. Interacting with the authors of tomorrow and teachers giving their all to increasing literacy—especially among the 'non-readers' in their classes—within the Penguin Random House building was nothing short of amazing."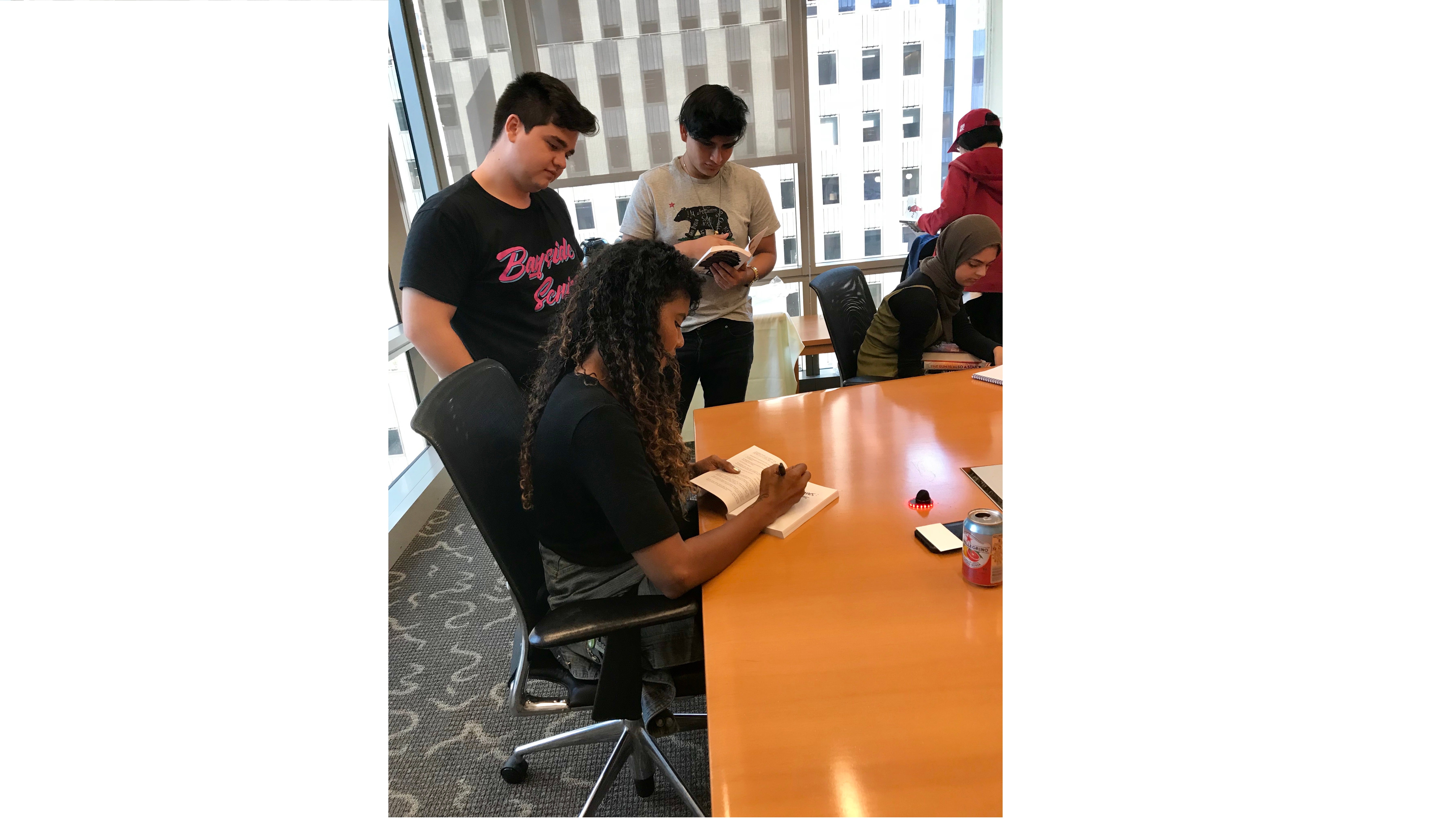 Our first-place memoir award recipient, Regina Fontanelli, said, "This retreat gave me a safe environment to create and allowed everyone to listen to each other's work and proudly share our own. On the last day of the retreat, we all created a group chat and committed to share our work. In just four days, we knew that what we had as a writers' group was special."
"This writer's retreat helped me develop who I am as a writer—it encouraged me to not only continue writing but to one day share it with the world," said spoken-word award recipient Oluwafemi Aina.
The stimulating readings, with contents ranging from heartwarming conversations between mother and college-bound daughter to sensitive topics including suicide and drug addiction, made for a refreshing summer afternoon break while having a true impact on both students and our volunteering employees. Immediately afterward, a small celebration took place to mark the end of our Summer Writer's Retreat and say farewell to these about-to-be college freshmen. Students left with a Penguin Young Readers "Sleep. Eat. Read. Repeat." book bag filled with selected YA titles from Penguin Young Readers and Random House Children's Books.
Are you interested in working with young writers? The Penguin Random House Creative Writing Awards program will kick off the new academic year this October with more than fifty writing workshops in NYC public high schools. We need author volunteers to teach workshops and help evaluate entries. If you're interested in learning more about the Penguin Random House Creative Writing Awards, contact mfallonhouska@penguinrandomhouse.com or go to http://foundation.penguinrandomhouse.com/creativewriting.