Few childhood events evoke as much nostalgia as the elementary-school book fair. Read on to learn how Penguin Random House captured that unmistakable, magical feeling at our first-ever Book Fair for Grownups on Saturday, November 23, at Lightbox in New York City.
Decades beyond studenthood, many adults still pine for the days when their school libraries, auditoriums, and gyms transformed into pop-up shops filled with books, pencils, Gelly Roll pens, erasers, and other such wonders.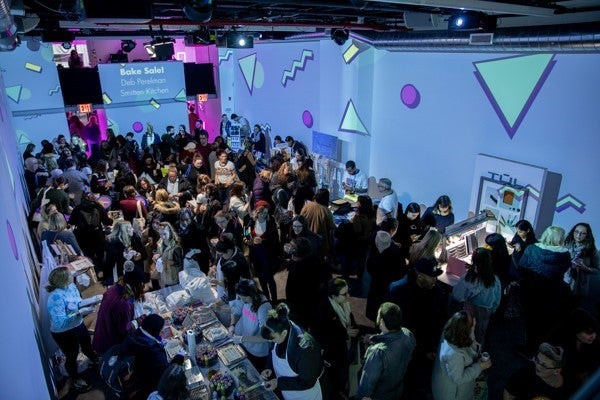 For one afternoon, Penguin Random House hosted a sold-out event that transported more than 700 adults back to grade school. Thanks to the creativity and curation of a truly cross-divisional team, PRH recruited authors, partners, media, influencers, and more to create this experience. "Students" shopped among a wide assortment of books for grownups, curated by Read it Forward and Belletrist, literary-themed merch from Out of Print, and school supplies from Office Depot.
Book Fair activities also included "lessons" given by authors from across Penguin Random House; the chance to tie-dye T-shirts and scrunchies with Glue; awkward school photos (with lasers!); a Tiger Beat lyrics challenge; a Lip Smacker selfie station; and a cocktail-, candy-, and chip-fueled recess powered by Urban Outfitters.
The event was the first of its kind to look at exactly how books and authors fit into the booming experiential marketing world. The author platforms team at Penguin Random House, which spearheaded the effort, is always looking for new and innovative ways to extend the reach of our titles and authors.
Author highlights included: Mad Libs Live with "Principal" John Hodgman (Medallion Status) and Random House copy chief Benjamin Dreyer (Dreyer's English), with special-guest assistance from Lin-Manuel Miranda; a bake sale with Smitten Kitchen's Deb Perelman (Smitten Kitchen Every Day); art lessons with Adam J. Kurtz (1 Page at a Time) and Siobhán Gallagher (Who Do You Think You Are?); science with Summer Rayne Oakes (How to Make a Plant Love You); women's studies with Shelby Lorman (Awards for Good Boys); spelling (as in spells and enchantments!) with Mya Spalter (Enchantments); and an event-wide Britney Spears singalong with Laura Hankin (Happy and You Know It) to wrap up the day.
If you missed it, you can also watch this super-cool time-lapse, shop Book Fair favorites, and listen to the event playlist on Spotify.