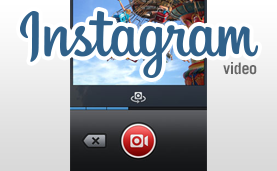 Instagram addicts will be happy to learn that the platform recently added a video feature. Now there's more than one way to express and promote your interests on the Facebook-owned platform used by more than 130 million people.
Overview:
Instagram allows you to create video footage between three and fifteen seconds long (the typical length of a web ad), and include any number of individual clips.  The fun really begins when you choose among thirteen effects, similar to the Instagram filters you've come to love in photos. These include black-and-white effects, retro-inspired filters, and other effects that brighten and blur videos.
Features:
Perhaps one of the coolest features is Cinema, which stabilizes footage to remove the jitter and shake associated with handheld cameras. As with photographs on Instagram, you can apply different filters to videos and instantly see the effects in playback mode before posting the final version.  We also like the ability to select a frame from the video as the cover—the photo that appears in your stream.
Instagram vs. Vine:
Instagram allows for fifteen-second videos that you can enhance with filters, while Vine allows for only six seconds of footage. But the biggest difference is the popularity and number of followers for each platform. Instagram has 130 million users while Vine, which is still relatively new, has 13 million.
Room for Improvement:
At this time, there's no way to upload existing video from your phone's camera roll to Instagram. You must record footage from the Instagram camera. Also, Cinema mode is only available for the iPhone. We hope this feature is soon rolled out for Android.
Now that you have the scoop on creating Instagram video, visit our archives for a refresher on the platform and start sharing!