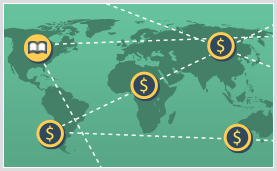 The international sales team sells Penguin Random House books in over 240 countries worldwide. We caught up with international sales executive Chris Dufault to talk about why there is such high overseas demand for American editions of books, the global growth of U.S. popular culture, and what authors can do to help their own international sales.
Chris, can you tell us more about the role of the international sales team?
Sure. The international sales team sells U.S. English-language editions of books in overseas markets. Our biggest markets are in Europe, Asia, and Commonwealth countries such as the United Kingdom and Australia. However, we sell in many, many different countries—from Chile to Qatar to the Cayman Islands.
What kinds of people buy our English-language titles?
A few years ago, the market for U.S. English-language editions of books abroad was confined mostly to expat Americans living or traveling overseas, plus titles that had not found a local publisher in English-speaking countries such as the UK and Australia. While these are still important markets for us, other trends are now also driving readers overseas to buy our books.
As internet bandwidth increases, more countries have access to and interest in American popular culture. A great example is George R.R. Martin's A Game of Thrones, where international interest in the books has been driven by the huge success of HBO's TV series. Overseas fans have even been learning Dothraki>, using Penguin Random House's Living Language courses.
In addition, the development of social media platforms means that a domestic media event, such as Diane Keaton playing beer pong with Jimmy Fallon, can now have global impact. When readers see a particular book in a popular YouTube clip, it drives interest, especially interest in the U.S. edition.
What does this mean for how books are launched?
The fact that U.S. media "spills over" globally means that book launches are now effectively global media events. In areas with a high level of bilingualism, such as Scandinavia, readers don't want to wait for the local-language translations of anticipated bestsellers. A few years ago, Australia's publishing schedule was three months behind the United States—but not anymore.
Aside from bestsellers, what other types of books do well?
Each local market has some unique characteristics, which we need to master in order to place the right titles in the right markets. For example, European countries such as France and Germany love literary fiction; Louis Begley is an American author who has become well established in Germany.
In Asia, there is great interest in learning English, which leads to a very vibrant market in English-language children's books. Self-development and business-focused titles are also very popular in markets such as India and the Philippines.
In English-speaking countries like the UK or Australia, many titles do find local publishers. However, we still find business for our team selling titles from American popular-culture icons, such as Neil Patrick Harris, or Mindy Kaling. U.S. publishing has always been particularly strong in certain genres, such as mind/body/spirit, which also creates international opportunities for American authors.
How is the growth of digital reading impacting international markets?
The international sales team sells and markets eBooks as well as print editions. We are seeing high rates of digital adoption in Latin America, Japan, and some countries in continental Europe, particularly in Scandinavia. But Germany, by far the biggest market for U.S. editions in Europe, is still primarily dominated by print formats. Some parts of Asia and India are also still in earlier stages of the eBook adoption curve, so there is more potential for growth.
Digital reading will always be a big part of our business, because it offers a speedy way to distribute a book when it becomes a global media event.  And our local marketing activities and in-store promotions have a spillover effect on eBooks, just as in the domestic market. We continue to make it a priority to find new marketing and placement opportunities overseas to lift all formats of any given title in a particular market.
What is your team doing to capitalize on interest in English-language titles?
Over the last couple of years, our team has expanded from twenty-three to thirty-five colleagues, some of them based overseas, selling and promoting to our regional retail and distribution partners. Penguin Random House also has been investing in our supply chain in order to get books to market even faster. Our logistics efficiencies have greatly reduced transit times to Europe and Asia, so that in most cases our print books arrive as quickly as competitive titles from the major UK publishers.
How can U.S. authors work with your team to grow their international sales?
We always find it useful to know if authors have existing strong international platforms. Let your marketer know if you see large numbers of international visits to your website or social media accounts. For example, we were able to work with Michelle Phan to analyze her YouTube followers, and identify that a large proportion were from the Philippines. This type of information helps us target books to specific international retailers.
We also find it helpful to know if authors are taking part in international book tours, which may also provide local marketing opportunities.
Chris Dufault is now Vice President, Director, Penguin Hardcover Sales Development
Sophie McNeill is part of the Digital Marketing and Channel Development team.