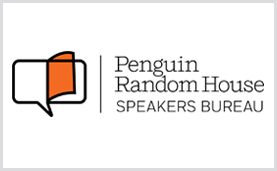 At the Penguin Random House Speakers Bureau, we represent an unrivaled roster of speakers who are shaping national conversations—on and off the page. Our newly designed website, prhspeakers.com, showcases our award-winning and bestselling talent, from Pulitzer Prize winners such as Junot Díaz, Charles Duhigg, Jennifer Egan, and Isabel Wilkerson to number-one bestselling authors, including Gillian Flynn, John Green, Charlaine Harris, Kathryn Stockett, Cheryl Strayed, and Markus Zusak.
We work with venues across the United States and throughout the world to create exceptional and rewarding events. At a community-reads program or a convocation, a medical conference or a CEO roundtable, our speakers take audiences beyond their everyday horizons.
Through this work, we have come to understand the important role public speaking can play in some authors' careers as a complement to their published books. If you are looking to broaden your speaking platform, here are some tips and tricks:
If you are just starting out on the speaking circuit, don't be discouraged by events offering small fees. These can help you become more practiced and comfortable onstage. Be sure to ask these engagements to record the talk—for your personal purposes, not to circulate without your permission. While you do not want unpolished videos floating around online, watching video and listening to audio of yourself can help you improve your presentation.
Watch other speakers in action, whether in videos online or at live events. What do you like about a talk? Is there anything you would change if it were your talk? Use these points to help you hone your own message.
Audiences love hearing how an author's work came to be created. Don't just read from your book; be sure to tell the stories behind the written word. Be anecdotal and personal, show your human side, and bring the pages of your book to life.
Know your audience and adapt your message and tone to suit them. Audiences tend to disengage if a speech seems too rote.
In the age of Twitter and Facebook, people want to take quotes away from any experience, especially lectures. Prepare sound bites that you want your audience to leave remembering  and repeating. Make sure to practice your delivery—don't be afraid to repeat, and underscore, these core messages in your speech. Every tweet and post increases the reach and life of your speech!
If you are published by Penguin Random House in the U.S. and are interested in knowing more about the PRH Speakers Bureau, please reach out to your editor or publicist. We work closely with our in-house colleagues in determining how authors might best fit our roster.