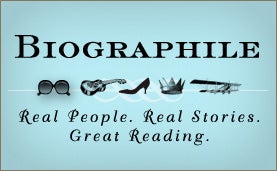 It probably goes without saying… we love books! We love to talk about books and we really love connecting with other readers. Over the past several years, Random House has been growing a network of websites designed to foster communities of readers particularly passionate about specific categories. Suvudu.com is dedicated to sci-fi, fantasy, paranormal, gaming, Star Wars, and graphic novels. WordandFilm.com is where voracious readers and film fans discuss books being adapted into movies or television series. Books for Better Living focuses on the mind, body, and spirit categories.
In March, we launched our newest site—Biographile.com. Featuring a rich mix of celebrity biography, memoir, and literary nonfiction, Biographile celebrates personal narrative. Like the other Random House sites, Biographile presents a great opportunity for us to reach particular segments of readers directly and share our excitement about our authors, their books and ideas.
Want to be featured on the site? Biographile is looking for contributors to their recently launched Craft of Writing series. We're also looking for writers' favorite memoir/biography titles. Contact lkim@randomhouse.com for more details.
Visit the Author Portal for a full list of our sites.