YouTube is the original home for video content online. It's constantly expanding and evolving, and accommodates both long-form and short-form videos. It is a great place to make transformative and versatile content, without time limits. On this platform, the only limitations are your drive, resources, and imagination. But if you're new to the platform, its scale can be a bit daunting. Here are some factors to consider as you get started.
Come with a Purpose
When you are starting out on any social media platform, it is always good to think about your "why." People who subscribe to your channel will want to know what they can expect from your content as well. Here are a few questions to ask yourself at this stage:
1. Do I have the time and resources to do this?
A good rule of thumb: If the platform, like YouTube, hosts only video content, being a content creator for it may be time-consuming. If you already have a demanding schedule, you may want to try creating short-form content before making the leap to longer videos. But if you have a little more time to spare for testing out something new, or if you have previous experience with assembling video content, jump right in!
2. What kind of content do I want to create? What do I want my audience to take away from that content?
Think about the thematic ideas that will power the content you put out. As an author, you have plenty of great topics to use as themes for a channel, whether you're a subject matter expert or want to vlog about your writing process. You can create your own BookTube account and try various bookish trends. You can post your interviews or entertainment content that you find interesting. The most important thing is that you stay thematically consistent across all the videos you put out. This way, when a viewer finds and enjoys the type of content you create, they will subscribe knowing to expect more of the same.
YouTube Shorts
Short-form content has been on the rise across platforms and YouTube is no exception. By 2022, the audience of YouTube Shorts had grown to more than 30 billion views per day. With Shorts, instead of worrying about the more intricate production elements of longer videos, you can focus on creating snappy, day-to-day content. Many creators also cross-post their Shorts to Instagram Reels or TikTok to expand their reach and save a little time (just be cautious of watermarks!).
The first three seconds of video are crucial for Shorts. You want to create a compelling hook that grabs a viewer's attention. Striking visuals or trendy sounds are a great way to stand out. Shorts also have a casual feel, so it is best if your video stands alone, without the need for a part two. If you are looking for inspiration, Shorts can sample clips from long-form videos. This is a great way to remix an idea from another content creator while still crediting them for their work. Finally, don't forget to film vertically!
Long-Form Videos
YouTube is best known for hosting videos much longer than the one-to-three-minute limit commonly found on other platforms. This allows for a lot of versatility as far as content creation goes, and if you have a little time, long-form can be fun to experiment with.
Any author will be familiar with the typical narrative arc of an introduction, rising action, climax, and so on. YouTube videos have their own recommended narrative structure. First, the video should start on a high note to catch a viewer's attention. After this, introduce yourself and briefly plug anything you would like to promote to your audience (examples: "Subscribe below! Follow me on Instagram! Check out my book, link in the description!"). Next come "the unexpected shifts." Here you can establish a brief background for the topic of your video before you get to the most interesting parts, which is where your video should hit multiple peaks—tell the funniest parts of an anecdote, give the most interesting facts and information, or reveal a plot twist. Pick up the pacing as you wrap up the final details. Lastly, give your audience a final call to action; for instance, you can link to your other videos or encourage them to leave a like if they enjoyed the content. You can also provide extra information about the topic before officially ending the video.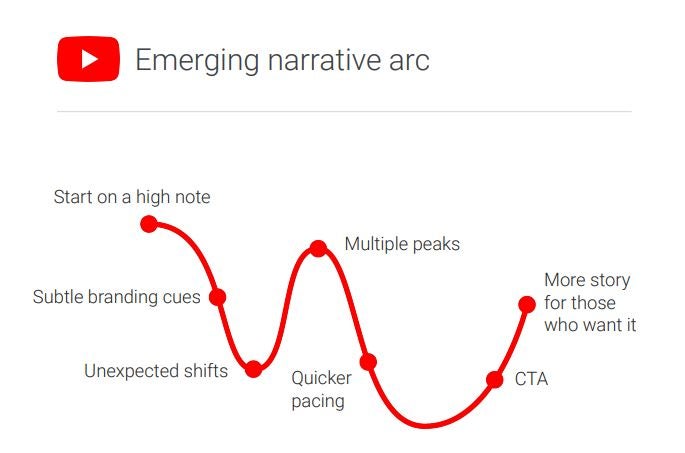 It's important to make sure that the technical aspects of your video are seamless. Film quality really matters on YouTube. But don't panic if you don't have a DSLR camera. A good cellphone camera can absolutely suffice; just make sure that you are filming in the best conditions. Footage should be well-lit and filmed horizontally. You are not required to be in front of the camera, but videos where a speaker is facing the camera do tend to perform best on YouTube. And pay attention to audio quality as well. Instead of the mic built into your phone or camera, a lavalier mic that you can clip to your clothing can help your voice come through much more clearly and minimize background noise. If you would like to include music in the background of your video, make sure it is royalty-free to avoid any trouble with YouTube's guidelines. YouTube has its own free audio library to make this simple.
Discoverability
Given the volume of content on YouTube, it is as important to optimize your videos as it is to create engaging content. One way to do this is to ensure that your channel page and content have some sense of uniformity. Your channel page is home to all the content you create and is highly customizable. First, make sure you have a great profile picture, as it will be viewable with everything you post. This can be a photo of you or a recognizable logo. You'll also want to add a banner to the top of your channel page. The best banners help viewers get a better sense of your content, so get creative. Tools like Canva can be super helpful for creating a standout graphic. You can also pin a specific video to play when someone lands on your channel page—a great way to promote your latest video—or create a channel trailer to encourage more subscribers.
There are many resources that go deeply into the inner workings of the YouTube algorithm, if you are curious. Here are two notable tips for beginners to keep in mind: .
1. Be searchable: When writing the titles and descriptions of your videos, try to use natural language that potential viewers may be likely to search for. Be thoughtful but concise. YouTube recommends keeping titles under seventy characters. If you can identify one or two words that sum up your video, make sure they feature prominently in your title and description.
2. Be brand-friendly: YouTube's algorithm loves to promote brand or sponsor-friendly content. (If you would like to monetize your videos, this is even more crucial.) Ideally, you will avoid strong or sexually suggestive language. Make sure your thumbnails are an accurate representation of the video content. And check out YouTube's Content Guidelines to make sure your videos adhere. They are updated frequently, so make a habit of checking back regularly.
This article is not exhaustive when it comes to YouTube tips and guidance. The platform has a whole host of amazing features to help you spotlight whatever you create. So feel free to create, test, and iterate. If you're interested in learning more, check out the YouTube Creators channel or the Creators site for additional details.