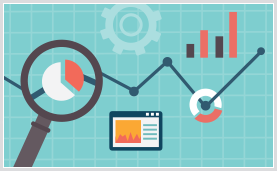 Did you know that traffic from search engines usually makes up 50 to 60 percent of traffic to any website? Also, visitors from search engines such as Google and Yahoo are likely to be your most valuable visitors, because they searched for your content! Following these simple tips should help your site get more visitors from search engines.
1. Do keyword research.
It's important to know how users are searching and the most logical way that a user might find you. In addition to phrases that include your name or book title, think about topic-related searches like "best new romance novel" or "historical fiction WWII." Use these phrases naturally in blog posts and site copy.
2. Write eye-catching page titles and descriptions.
When users look at a results page in Google Page, they see page titles and descriptions, which come from fields in the site's metadata. We've included a screen shot below: The arrow points to the page title, and the red box surrounds the page description. When creating your website, make sure these fields include eye-catching copy that will entice users to click. If your text runs too long, it will be truncated, as in the example below. The limits are about 55 characters for the title and 150 characters for the description—use this text to good effect! You could even test out different versions of the copy and monitor which works best.

3. Be wordy where it counts. 
When writing site content or blogging, don't be afraid of longer posts. While short, image-driven posts are great for social media sharing, search engines love deep content. Aim for 250 words minimum so that search engines can pick up lots of keyword phrases and context—just don't be so long that users give up before getting to the end!
4. Post fresh content frequently. 
The more often you post, the more often Google will crawl your site. If you let your content get stale and outdated, Google will no longer view your site as relevant or authoritative, and you will most likely rank lower for all but the most specific searches.
5. Avoid duplicate content. 
Duplicate content is the repetition of large blocks of content on two or more pages (either on multiple pages within a site or on several sites). If for some reason you are posting an article on multiple sites, be sure to write unique introductions for each of them. Google prefers one "authoritative" page and it gets confused when several pages display the exact same content. It deals with this confusion by demoting all the pages in its search results.
6. Use smart URLs. 
If you have the ability to construct your own URLs for each page, use this to your advantage. Google scans and indexes URLs, so using representative phrases is very helpful. Always use a hyphen to separate words in the URL; this helps Google identify each word individually. It doesn't recognize an underscore, so without the hyphens, Google reads the entire phrase as one long, potentially meaningless "word."
Good:
www.url.com/authors/emma-straub
www.url.com/ten-tips-for-new-writers
www.url.com/blog/writers-block
Bad:
www.url.com/emma_straub
www.url.com/emmastraub
www.url.com/post-3892
7. Upload images. 
Whenever possible and appropriate, add images. Not only does this make your page more visually appealing, but it can also help your site rank within Google's Image Search. Just remember to make the image relevant to the text on the page, and add a brief phrase, where you can, in the image's description.
8. Link smart—use anchor text. 
When you link to a page, whether on your own site or a different site, go beyond "click here." The text should let you know what you are clicking on. The name of the company may work ("Random House") or you may want to be a bit more descriptive ("my favorite cookbook collection").
9. Don't engage in bad practices. 
There are companies that specialize in optimizing websites for search engines (often called search engine optimization, or SEO). However, not all their recommendations may be good—some aim to "trick" users into visiting your site. In general, avoid any practices that seem duplicitous. Search engines are constantly looking for bad practices and will penalize sites that use them. This is not as tricky as it sounds—you'll be able to spot these bad practices as soon as you see them. Examples include:
Bolding random words or phrases in your text in the hopes that the format change makes search engines pick up on them more.
Including a block of keywords at the bottom of your site. Search engines are looking for keywords in context, not just a string of phrases.
Exchanging links—this is a very bad one. Only link to sites that are relevant to your content. If, for example, a plumber reaches out to you and offers to put a link on his site leading to yours on the condition that you do the same—run! There's likely very little reason a user on your site would be interested in this plumber, and vice versa.
10. Get to know your analytics. 
You should set your site up on Google Analytics and Google Webmaster Tools, at minimum. These are both free tools that Google provides to webmasters so they can properly monitor their sites. They will let you see how many people look at your site each month, how they found you, if there are any errors on your site, and much more. Many, many tutorials and help articles online can help you get started, including this article about Google Analytics and this Author Webinar (available once you log into the Author Portal).
If you have further questions on this or other marketing topics, please talk to your editor or marketing contact, who will be able to advise on your specific situation.
Sue Wiker is SEO Marketing Manager, Fodor's.