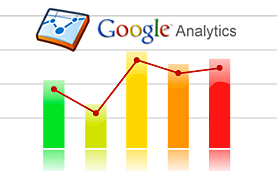 Last month, we looked at how to track your social media effectiveness. This month, we show you how to make the most of Google Analytics and other free tools to help you understand your fans and build your author presence online.
Google Analytics
Google Analytics is a must-have for any author website. Click here to set up an account and get started. (If you haven't visited Google Analytics in a while, it's worth noting that they added additional useful features at the end of 2011.)
Here is what Google Analytics can do for you:
Audience
The overview section gives you a snapshot of your recent traffic (including pageviews, visits, and unique visitors). Don't forget that you can change the date range, and also compare by month or year.
The demographics section tells you where your visitors come from geographically and their primary browsing language. This is great information if you are planning events or tracking the placement and performance of international rights.
The mobile section tells you if you have much traffic coming from mobile users. If mobile traffic is significant for you, you may wish to check how your site looks when viewed on a mobile device.
Traffic Sources
The traffic sources section contains rich information. Spend time here to understand whether your visitors come primarily from other sites (referrals), search engines (search), or people typing your web address directly into their browsers (direct).
Referrals will probably be the most interesting category, so consider investigating further.

Did someone write a blog post about your book? If so, it's worth dropping them a line to thank them.
Are many visitors using Pinterest or another social media platform? If so, look at getting more exposure on that platform.

The new social section contains a lot of detail on the behavior of traffic coming from different social platforms.

Consider installing additional plug-ins to see how people are using social buttons (like Facebook or Twitter) on your site.
Content
This section helps you see which pages of your site are performing especially well.
Time spent on site is a useful metric to evaluate the effectiveness of your content, especially in combination with pages viewed per visit.
Bounce rate is the percentage of visits in which people left the site after looking at only one page.

A low bounce rate (under 50 percent) is usually seen as positive, because it suggests people are finding your site interesting. However, a high bounce rate can also be positive if you are sending traffic to useful places, like retailers or your own social media.
Conversions
Google Analytics allows you to set up and track  goals: actions you would like your visitors to take. This could include time spent on your site, visits to certain pages, or clicks on links (for example, to social media, videos, excerpts, or retailers). Goals can now include downloads (for example, PDF book excerpts on your site).
General  Tips
Other Free Tools
Demographics tools
The one area where Google Analytics is a little weak is demographics (for example, age, gender, or household income). If you would like this data, consider implementing Quantcast tagging in addition to Google Analytics. Most WordPress sites have this tagging set up automatically. You may want to adjust your settings to make this information private. Quantcast will also give you traffic data for your site. Often the numbers are slightly different from Google's, due to small differences in methodology.
Benchmarking
Finally, if you find other sites similar to your own, it can be fun to compare traffic and demographic data (although the data is usually sampled, so it is not always fully accurate). Information on all websites is publicly available at Alexa, Quantcast, and Compete, and through Google's DoubleClick Ad Planner (this requires a Google login).
Find Out More
For more on website analytics, Random House authors are welcome to join us for our September webinar. If you have questions on this or other marketing topics, please talk to your editor or marketing contact.