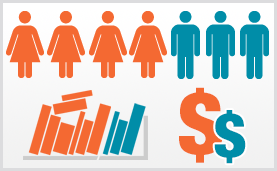 How do people learn about new books?  What types of books are they buying? What formats are they selecting?  Consumer insights play an important role in a publisher's strategies, from acquisitions to pricing and marketing campaigns. During a recent industry event at Random House, Carl Kulo of Bowker Market Research shared highlights from their 2013 U.S. Book Consumer Demographics & Buying Behaviors Annual Review.
The report shares insight into buying trends from 2012, as well as the first quarter of 2013. A nationally representative sample of Americans aged 13+ is invited to take a survey on book buying each month. Responses from at least 6,000 panelists who purchased a book in the month prior to each survey are aggregated to gather insights on who the panelists are, their preferences and habits, and what's important to them when they shop for books.
Notable trends from 2012 include e-commerce taking the lead as the largest channel for book sales, growth in the eBooks category, and paperbacks remaining the most popular format for readers. The first quarter of 2013 shows more women and older consumers buying books, continued growth for eBooks, and more iPads being used for eBook downloads.  We've created an infographic to highlight consumer book buying trends from the past year.