If you're not already on Pinterest, it's time to consider sharing your voice and increasing your reach through this fast-growing community. Since we last explored Pinterest, they have gained over 53.3 million users (source: Comscore) and have added exciting new features such as article pins, which allow users to discover and collect articles from around the web. Pinterest also released their first set of APIs (application programming interfaces) to Random House and other select partners, allowing us to create new ways for readers to discover your books online.
Rich Article Pins
Did you know that you can use Pinterest to save articles and read them later? In fact, more than 5 million articles are pinned each day. This fall, Pinterest rolled out a new look for article pins that includes a story's headline, author, description, and link to the source right on a pin. Rich article pins stand out from other pins on Pinterest's feed and can help you gain more followers. They also benefit authors by highlighting content and focusing on content curation. Random House collaborated with Pinterest to include the option to create rich article pins on its websites, such as Word & Film and Biographile.
A few ways authors can use rich article pins include:
Create a reading list board that features reviews and articles related to your books or interests.
Are you an expert on a particular topic? Curate articles on that subject on a dedicated reading list board.
Pin articles from your blog on to a board where you can reach even more readers.
Add rich article pins to your blog. Here's a link to do it yourself, or you can enlist your web developer.
Build community by following other reading list boards.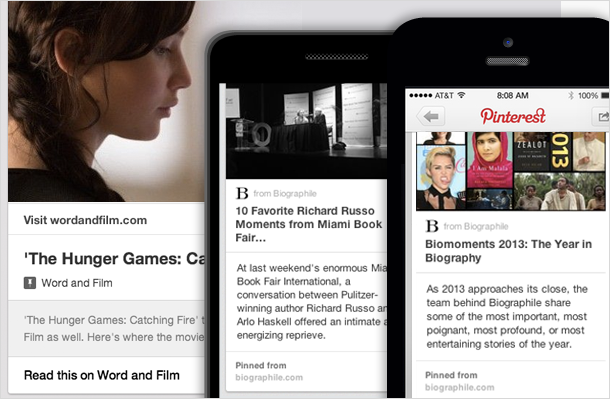 Pinterest Book Discovery on Randomhouse.com
Pinterest recently released its long-awaited first set of APIs to select partners, including Random House. This enabled us to add unique Pinterest integration to randomhouse.com, allowing visitors to discover books and authors as they surface through Pinterest activity. Readers can also pin directly from the site to a Pinterest board. Random House is currently working on additional site enhancements that include preview excerpts from books and more.
To boost discovery for your book:
Pin and re-pin—visit randomhouse.com and help propel a book's visibility by pinning it from our site. Also re-pin books that appear on boards you follow.
Create a board that features titles from randomhouse.com.
Include Pinterest buttons for books that appear on your site or blog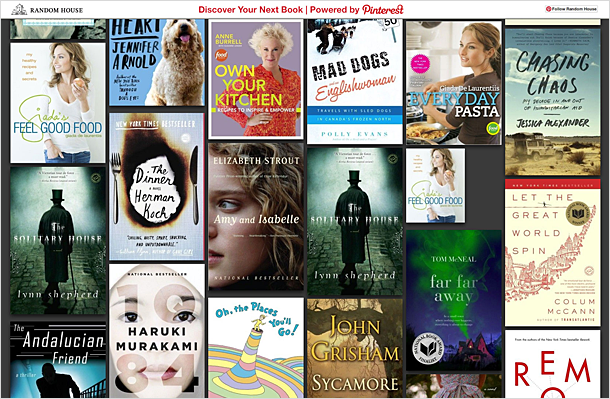 Milena Schmidt is part of the Random House Digital Publishing Group.