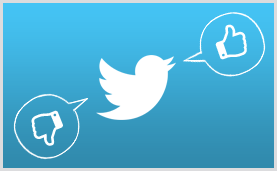 In an age where we are defined by social media, it's constructive to make a good impression when engaging with others. Each platform comes with its own rules of etiquette, which leaves many people feeling like outsiders until they catch on. This can be true of Twitter, as new users decipher the use of RT or MT, and fret over whom to follow back. Play by the rules and use common sense, and you'll have the best chance of being rewarded with responsive followers. Keep in mind: You are what you tweet.
Top Twitter Dos
Do Create an Informative Profile
First appearances go a long way, so be sure to create a captivating profile. Select a photo and background that represent you and your interests. (A clear head shot and a background related to your books provide a good start.) An engaging profile description will also go a long way in gaining new followers. Nothing says "fake" or "spam account" more than a default photo and an empty profile.
Do Tweet Regularly
Frequency, consistency, and timing are everything on Twitter. To keep followers engaged, tweet regularly (a few tweets each day for beginners) and be consistent about what you share. It's also important to respond to conversations in a timely manner. Twitter is a platform for quick turnaround, and engagement can be lost after periods of silence.
Do Learn the Lingo
Your posts are called tweets; when you repost something from another person, it's a retweet (RT). There's also the modified tweet (MT), when you share someone else's tweet but make edits to include your own thoughts. Trending topics (TT) are discussed by many people at one time; a direct message (DM) is a private message that you send to a follower; and the list goes on. Explore a Twitter dictionary to learn more terms. 
Do Engage
Keep your followers engaged by sharing thought-provoking articles, videos, websites, photos, and other content that offers value. Go the extra distance and add your take on a topic, instead of just sharing a link or retweeting. Also remember to shout out to followers that mention you—thanks and recognition are appreciated and go a long way.  
Top Twitter Don'ts
#Dont #Overuse #Hashtags

Hashtags are used to mark key words and topics in your tweet. They can help amplify your exposure—but overdoing it can make followers feel that you are spamming them. Limit your use of hashtags to two per tweet and ensure there are no key words or punctuation in the text following the hashtag.

Don't Automate 
Think twice about sending automated tweets or impersonal direct messages (DMs) to followers. Twitter is a platform for personal expression and two-way conversations. Automated tweets take authenticity away from your voice, and most people can see through them.
Don't Protect Your Account
Twitter allows users to protect their tweets, making their accounts visible to only approved followers. However, protecting your tweets creates a barrier between you and potential followers. Also, if you have a protected account, others are not able to retweet you and your tweets won't appear in Google searches.
Don't Be Negative or Share Spoilers
Think of your tweets as social media karma. Keep a positive attitude and you'll reap the rewards. On the flip side, sharing tweets that criticize and express negativity can quickly result in a loss of followers and lead to awkward situations. Also beware of spoilers—there's nothing worse than ruining something for your followers.
Milena Schmidt is part of the Random House Digital Publishing Group.