Social media offers plenty of ways to interact with your readers. But one special way to build engagement with readers—whether they're lifelong fans or have never before picked up one of your books—is to open yourself up in a Q&A. In this article, we detail the many platforms available to you if you'd like to have a more direct relationship with your readers.
Reddit AMAs
Reddit, in case you're not familiar with the platform, is a community built of topic-based forums or subreddits. New topics and discussions, including photos or video, are voted on by users. The more "upvotes" a post has, the higher it will appear on the subreddit, whereas "downvotes" will reduce a post's visibility.
For many years, Reddit has hosted "Ask Me Anything" chats—AMAs—with notable people, from Bill Gates to John Green and everyone in between. AMAs have become a defining feature of the platform. Celebrities can post AMAs to the general /r/IAmA subreddit, but many authors tend to visit smaller, more reader-focused subreddits to set up their AMAs, such as the popular forums /r/fantasy, /r/YAwriters, and /r/books.
To host an AMA of your own, reach out to a moderator of your preferred group using your Reddit account. Keep in mind, you can get questions that are wildly off-topic, so you're never required to answer every question.
Instagram Q&A Sticker
Just last month, Instagram introduced a new feature to their Instagram Stories tool, which you may have seen on Instagram accounts such as our own feed at Penguin Random House (@penguinrandomhouse). Similar to their "polling" sticker, which they released a few months ago, Q&As are available by following these steps:
1. Log into your Instagram app and navigate to the stories feature by tapping the top-left button on your homepage.
2. Take or upload a photo for your story.
3. Click the "sticker" button, which is the first icon in the top-right corner of the screen. (The image looks like a half-peeled sticker!)
4. Tap the sticker labeled QUESTIONS.
5. You can change the default text ("Ask me a question") to whatever you'd like, as well as adjust the background color and move the sticker around the screen. In the example below, we added more detail to the question and changed the background to our traditional orange color.
6. You will receive a notification when you get new questions. Simply click and respond with a video or photo. (Note: You can't use the "text" feature when answering questions, so many users upload a related photo and write text atop that.)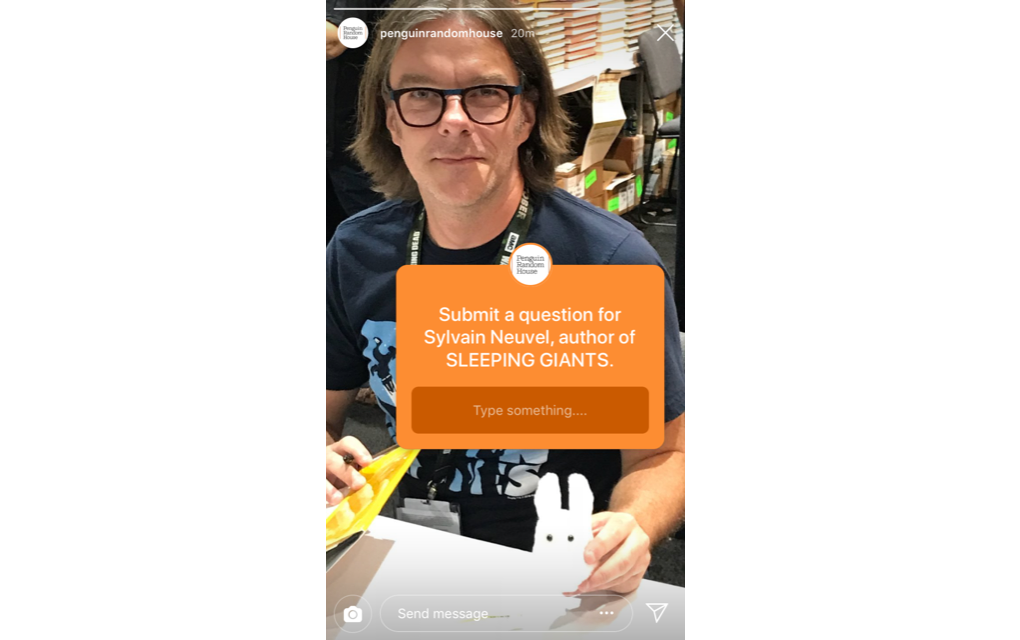 For more ways to build reader engagement with Instagram Stories, check out this article.
Goodreads' "Ask the Author" Program
Goodreads has also built an "Ask the Author" program, which gives authors the opportunity to answer questions submitted by Goodreads users. From Goodreads' Author Dashboard, you can answer, skip, or flag questions that have been submitted to you. Questions that you answer will be visible to the community, with all answers collected on one page. Unanswered questions will be invisible to everyone except you. Once you reply to a question, it will be promoted on the newsfeed of the member who asked it, which in turn promotes the post and your author profile to all of that member's friends on the platform.
Don't have any questions yet? No worries—one tip to get the ball rolling is to reach out to an author friend and offer to trade questions on each other's Ask the Author pages. These actions will show up on both of your respective news feeds (both when you ask, and when you answer!), which will easily allow other readers to join in the fray.
To open your page for questions, follow the steps below:
1. Go to your author dashboard.
2. Scroll down to the "Ask the Author" section.
3. Follow the instructions on that page to mark your author account as open for questions.
For more tips on Goodreads, check out this article.
Using Other Platforms
• Twitter Chats can be a great way to interact with potential readers. Join up with a group of author friends and open yourselves up to questions, or designate someone as a "host" who can ask your group questions about upcoming or recently published books. The more people you can get involved, the more engagement you get and the more potential readers you'll reach!
• Facebook Live and IGTV are both ways to reach out to your current fans and open your page up to questions from your readers. We've covered these in detail in recent articles, so make sure you check them out if they've flown under your radar: Facebook Live & IGTV.
• Newsletters can also be used to engage with your audience in an interactive way. In one mailing, or on social media, source questions from your fans. Encourage them to sign up for your newsletter if they haven't, and you can release a full Q&A to your audience. It's like a more intimate mini-interview.
Whichever way you choose to interact with your audience, know that all questions are optional, especially if they're too personal. Readers love to get a glimpse of your personal life, but setting boundaries is always necessary in a job as public as this.
If you're interested, try out some of these tips and find out what works best for you and your readers, and stick with that method. Or change it up from time to time—it's up to you! In the end, the more you engage with your potential readers, the better chance you have of bringing them on as fans for life.
Phil Stamper-Halpin is Senior Manager, Publishing Development & Author Platforms.