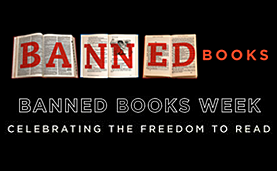 Each fall, libraries and bookstores nationwide participate in Banned Books Week, raising awareness of literary censorship with displays of "challenged" books and hosting events celebrating the freedom to read. This year, Banned Books Week is from September 30 through October 6. Keep reading to find out how you can get involved!
Banned Books Week was begun in 1982 to recognize a sudden spike in the number of challenged books, often on the grounds that they are "inappropriate" for children because they contain difficult ideas or information. (Wondering what makes a challenged book? Check out the list of top challenged titles from 2011 and a list of frequently challenged classics.) Titles featured during Banned Books Week have all been threatened with removal or restrictions by schools, libraries, or bookstores; books that have been famously challenged and are now considered literary classics include The Great Gatsby, The Grapes of Wrath, To Kill a Mockingbird, and The Catcher in the Rye. Thanks to the efforts of teachers, librarians, booksellers, and community members who have stood up for the freedom to read, most challenged books have remained available to readers.
The Random House's Children's Books, Library, and Academic Marketing teams will pitch in by talking about banned books and the freedom to read all week long via social media on Facebook, Twitter, and Pinterest, as well as offering resources for teachers and librarians on the Random Revelations blog.
"Random House Library and Academic Marketing and Random House Children's Books are proud to partner with schools and libraries to ensure Random House, Inc., books are available to all readers. We will be providing book lists and promotional materials to help teachers and librarians across the United States celebrate our freedom to read," says Jennifer Childs, director of library marketing.
Anyone can participate in the Banned Books Week initiative, from librarians to booksellers to publishers, authors, and readers.  One of the best ways to get involved is simply to join the conversation online (you can start by following @RHLibrary, @RHHighSchool, and @RandomHouseKids' lead!) and  sharing your own message of support, or attending an event in your area. (You can find a full listing of Banned Books Week events on their website.)
If you can't make it to an event, you can submit videos for the Virtual Read-Out. ("Read-outs," or continuous staged readings of banned or challenged books, have been a centerpiece of Banned Books Week since its start. Readers can now participate from around the world by recording their own videos supporting the freedom to read, which will be featured on a dedicated YouTube channel.) Random House already has a popular Banned Books Week Pinterest board with nearly 6,000 followers!  If you have a Pinterest account, consider creating a board that displays some of your favorite banned books for your followers.
For more ideas on how to get involved, check out the American Library Association's suggestions here!